What do soccer players constantly sniff before games? Often you seem them sniffing something just before they walk out on to the soccer field…Here's Landon Donovan using smelling salt right before a game to get a little lift. This isn't illegal or anything like that. Smelling salt is usually used if someone gets hit in the head or feels a little out of hit after colliding with another player. But sniffing smelling salt before soccer games is becoming more popular.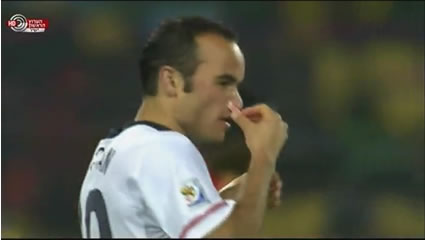 Before every LA Galaxy game, and every game he plays for the United States national team, Landon Donovan does a little bit of snorting and sniffing of some smelling salts. He breaks them up and takes a few sniffs and then pass them along to anyone else you might like a nice wake up call. And it appears to be a little bit painful to snort the smelling salt in both nostrils, but I'm sure it does the trick and wakes Donovan up and gets him ready to go. Take a look.
And Donovan has been doing doing this smelling salt sniffing routine for a number of years. Certainly since he's played for the LA Galaxy. Any negative effects from long term smelling salt ingestion?
Here's a wonderful display of a pre-entering the filed use of smelling salt by Minnesota United forward Darwin Quintero when he enters the game as a substitute.
I wonder if Donovan ever tried wearing a nasal strip like Neymar. I don't think that gives you the kick like the smelling salts do.
Chelsea's Samuel Eto'o enjoys a sniff before he plays too. I hope EA Sports has allows this in their FIFA soccer video games. You know, giving you the option to let your player sniff smelling salt before they play or after they take a knock to the head…