Luis Suarez bites player, not for the first time. Ajax forward Luis Suarez suddenly had a desire for some blood and bit PSV Eindhoven's Otman Bakkal on the neck/shoulder area. A crazy moment that recalls Mike Tyson, vampires and Dracula. What in the world came over Suarez? What was Suarez thinking biting another player like this?
Suarez was suspended for two matches and fined an undisclosed sum, with the money going to, I guess, the Red Cross. Really though, has something like this ever happened in football before? There was the biting incident a few years back, but this was in celebration in Sevilla after a goal, not as a vampire like attack. Of course it too was still strange, as Francisco Gallardo bit Jose Antonio Reyes private area.
Just this week Eto'o sort of lost it and head-butted a player Zidane style. I'm hoping there's not a rash of biting incidents in the coming weeks as players copy Suarez.
Suárez's nibble occurred in stoppage time against PSV after the referee Bjorn Kuipers showed Ajax's Rasmus Lindgren a straight red card for a rough tackle on the PSV playmaker Ibrahim Afellay.

Suárez argued with Bakkal, who stood on the Uruguayan's foot, prompting him to bite Bakkal's shoulder.

"I don't know if he bit hard but this morning I spoke about it with Luis," the Ajax coach Martin Jol told a news conference on Monday hours before the club announced the suspension.

"The outcome of our conversation we will announce after the match against Real Madrid, but he will be our captain against the Spaniards."
Update: Suarez has taken a liking to the arm of Chelsea's Branislav Ivanovic. It looked good enough to eat. Yes, Suarez has bitten someone again. Sadly, Suarez is such a quality player that his bites are taking over his game and what he's known for.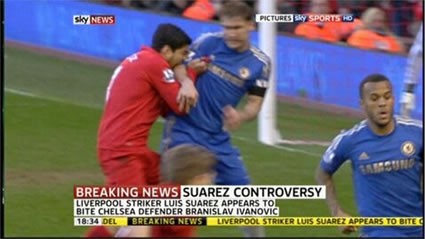 Suarez now has to wear this dog collar type protective hood during matches so he doesn't bite someone again. It's kind of like a snood but plastic.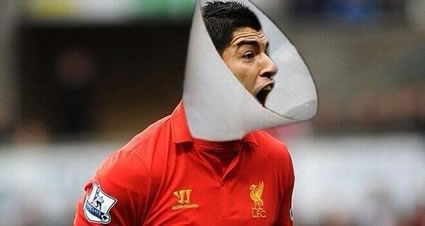 Apparently, Luis Suarez has bitten another soccer player three times. I wonder what Messi thinks about all this biting by his best friend.