By Tony DiCicco

In 1982 West Germany fought back from a 3-1 overtime deficit against France to tie the score at 3-3 and force a penalty shoot out. The game will always be remembered for Schumacher's wild challenge on Battiston outside the box. But it will also be remembered as the first major World Cup game decided on a penalty shoot out. The purists were outraged.

Surely there is a better way to determine a winner in a World Cup semi-final. Since 1982 the penalty shoot out has resurfaced in every World Cup and is slowly gaining acceptance as a necessary evil.

In 1994 the unthinkable happened. The World Cup Final itself was decided in a shoot out – a penalty kick shootout.

Baggio penalty miss – 1994 World Cup Final.

The purists once again were up in arms. However, by 1998 FIFA had failed to come up with a better alternative and three more countries would be sent home courtesy of a shootout loss.

The Penalty Kick

The soccer penalty is something of a misfit. The game of soccer itself is free flowing affair between offense and defense. When the ball goes out of play it is quickly returned and the game resumes with little time lost. At no time other than a penalty kick is the game reduced into a one on one duel. It is a team sport. However when a penalty is awarded there is usually a delay of a minute or so before the kick can be taken. It could be compared to a field goal in football but soccer does not have special team players waiting on the bench for such an occurrence. Its closest relation is the penalty shot in ice hockey.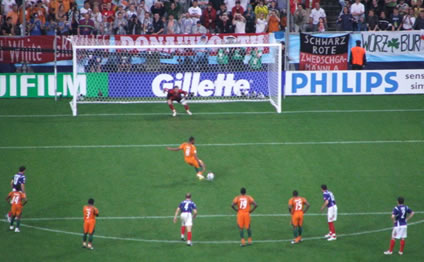 But the main difference is the odds of scoring. The hockey goalie has a much better chance of making the save and the skater must execute a series of skills before getting the shot off. (NHL success rate is about 40%) In soccer the kicker is heavily favored and needs to execute only one skill…. kick the ball in to the back of the net. This may sound relatively simple but it is not. Since the 1982 World Cup through France '98, 211 penalty kicks were taken and 161 were successful. Simply stated at the highest level of soccer one out of every four penalties is either missed or saved.
At the 1998 World Cup two second round games( France & Italy, Argentina & England) and a semi final clash (Brazil and Holland) ended up in penalty shootouts. A further 18 penalty kicks were awarded during regulation play making a total of 46 penalty kicks in the whole tournament. Thirty seven of the 46 kicks were scored (80%). The startling thing about this statistic is that the success rate has varied very little since 1982.
| | |
| --- | --- |
| 1982 | 77% |
| 1986 | 77% |
| 1990 | 73% |
| 1994 | 75% |
| 1998 | 80% |
| Average | 76% |
Are goalkeepers better now? Are strikers better now? Have their advances nullified each other. Has much time and thought been put into taking or stopping penalty kicks? After they were eliminated by Argentina in a shootout the English team admitted that Alan Shearer had been the only player to practice penalty kicks in the build up to the game. This is especially surprising since England lost the 1990 World Cup semi final and the 1996 European Championships semi final in penalty shootouts. Italy has fared even worse.
In 1990 they were eliminated in the semi final, in 1994 they lost in the final and in 1998 they lost again in the second round. All three defeats came in penalty shootouts. On the other hand Argentina won their shoot out with England in 1998. In 1990 they lived and died by the penalty. They beat Yugoslavia and Italy in shootout fashion in the quarterfinal and semi final respectively before losing 1-0 to Germany in the final on a Brehme penalty. Since it looks unlikely that FIFA will come up with an alternative it makes sense to take a close look at the execution of penalties at the recent World Cup in France.
Read more:  How They Shoot Penalty Kicks – Part 2
The following is a listing of every penalty kick taken in the 1998 World Cup.
Author: Tony DiCicco of SoccerPlus
Related Articles: