Whenever someone wants to get better at a sport, one of the best places to turn for advice and tips is those at the very peak of the profession. In football, the likes of Cristiano Ronaldo and Lionel Messi are naturally talented, but there's no doubt that they've worked tirelessly to hone their skills and practices to become the best in the world.
Whether they're the best in the world or one of the best at what they do, each footballer who has reached the pinnacle of the sport has their own way of training and preparing.
The man who made summer headlines with his big-money move to Juventus is widely considered to be the best footballer in the world right now. Having dominated the Premier League with Manchester United and obliterated La Liga and Champions League records with Real Madrid, it's Cristiano Ronaldo's football-centric lifestyle which has kept him in peak condition and still worth over €100 million at the age of 33.
Ronaldo is the prime specimen to base your football training philosophy on as he has reached the very top of the sport and stayed there. As explained to FourFourTwo, Ronaldo says that you need to push yourself every single day, regardless of motivation. To get into the right mindset, Ronaldo says that he needs good music to listen to en route to the game as being primed in mind is as important as the physical aspects of the game. It's also very important to recharge as being relaxed and getting the right amount of sleep keeps you in the best physical and mental condition.
Lionel Messi: Speed and Agility
Watching Lionel Messi can be mesmerizing at times: the 5'6'' Argentine simply ghosts past defenders with the ball at his feet. The greatest part of Messi's game is his speed on the ball. As noted by performance innovation team director Craig Friedman to ESPN, Messi is faster with the ball at his feet than defenders are without the ball.
To achieve this level of speed, Messi has had to work on being powerful and explosive as well as having stability through his torso, hips, and ankles. He has also trained on the technique of delivering this power in the right direction to efficiently maximize his speedy outbursts.
To achieve this, Friedman suggests doing linear speed workouts, such as knee hug lunges, pillar skips, acceleration wall drills, and split squat jumps, as well as multidirectional speed drills, which include lateral lunges, rotational lunge stretches, lateral bounds, lateral shuffle to cuts and three-hurdle drills.
Toby Alderweireld: Running is Vital
Tottenham Hotspur has built what is most likely the strongest defense in the league with Toby Alderweireld at the heart of it. The Spurs center-back is everywhere along the back line making tackles, winning the ball in the air, and even carrying the ball out of defense himself from time to time. A fundamental element to his game is his stamina – which is a focal point of his manager's training regime.
Alderweireld clocks in an average of 10.3 kilometers per Premier League game, with his ability to cover so much ground and play to his peak over the entirety of each game key to him being rated one of the best center-backs in the world. Spurs' non-stop play and constant pressing can only be done when all players have a high level of stamina, which they do. It's because of this that Tottenham might just well win the Premier League.
It may seem like an obvious point to make, but many players neglect the crucial training of running in favor of skill training. Being able to run for long periods of time at a high speed is the most necessary of traits. You can be the most skillful player on the ball, but if you can't run to make space, carry the ball, or track down the opposition for a full 90 minutes, you won't be of much use to your team.
David De Gea: Trust Your Reactions
It took some time, but David De Gea has evolved into the best goalkeeper in the world. When he joined Manchester United from Atletico Madrid, it was on the advice of Eric Steele who told Sir Alex Ferguson to buy the Spaniard over German goalie Manuel Neuer. After a few years of uncertainty, De Gea emerged as the best player at the club.
One of the many incredible aspects of De Gea's play is his lightning-fast reaction speed. While developing at United, De Gea requested some training drills which would enhance his reflexes even further as well as enhancing his innate ability to make saves with his feet. He has said that some coaches have tried to coach him away from his willingness to flow with his reactions, but he stuck with it as they've become a core part of his game, per Tribuna.
N'Golo Kante: Work on Invisible Training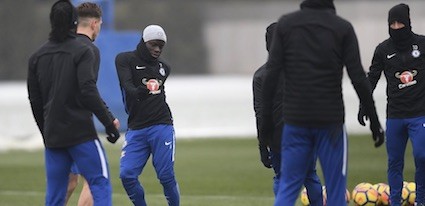 When Leicester City won the Premier League, one of the breakout stars was the 5'5'' French midfielder N'Golo Kante. His ability to protect the back four with his movements, shrewd interceptions and clean tackles was instrumental to the Foxes achieving the impossible. The manager, Claudio Ranieri, says that he was the battery of the team and tried everything he could to stop the club from selling him to Chelsea the following season.
Now a World Cup winner as well, Kante's incredible midfield play has more teams and players looking to the energetic players influence a game even if it's not on the score sheet. Kante puts his ability to do so much work on match day down to what the French call 'invisible training,' as recorded by Metro, which refers to things that he does away from the pitch and training ground. As he has full control over these aspects, he makes sure that he sleeps well, eats the right foods, and does what's best to promote a healthy body.
And yes, Kante wears a snood during training when it's cold – which is often in England.
Zlatan Ibrahimovic: Get Stronger
Zlatan Ibrahimovic has been a star striker in the world of football for many years, with his imposing 6'4'' frame proving to be more than a handful for many top defenses. But, it's not just that he's tall and has a good shot on him; Ibrahimovic is remarkably athletic and very strong. He can certainly tussle with the strongest center-backs and still come out with the soccer ball. Watch has defenders bounce off Ibrahimovic as he holds the ball and shields it.
The key to outmuscling the stronger defenders is to build full-body strength. Ibrahimovic will do deadlifts, bench press throws, high bar box squats, pull-ups, and weighted floor wipers to make sure he can best his foes physically. From there, he simply picks his corner and slots the ball home.
Athleticism, stamina, eating well, and sleeping the correct amounts are key to all of the best footballers reaching the top and staying there. For them, football is 24/7, with all aspects of their lives geared towards making them the best that they can be.