Richarlison seal dribble. Before scoring his third goal for Brazil, Richarlison juggles the ball with his head a few times. Almost keeping the ball hovering there for a moment with the Korean defender unable to do anything. It was some what of a surprise that Richarlison was starting at forward for Brazil ahead of Gabriel Jesus, but not anymore.
Then it's some Ginga from Brazil, with a few quick passes and Richarlison gets the goal.
Richarlison is just toying with them out there 😤🔥 pic.twitter.com/eEbUu4eWTW

— FOX Soccer (@FOXSoccer) December 5, 2022
Again though, for a second, Richarlison balances the soccer ball on his head – keeping it there on purpose almost for longer than he needs to. Makes you think of the famous seal dribble by Kerlon. Just how many juggles does Richarlison pull off before releasing the ball? I count at least three…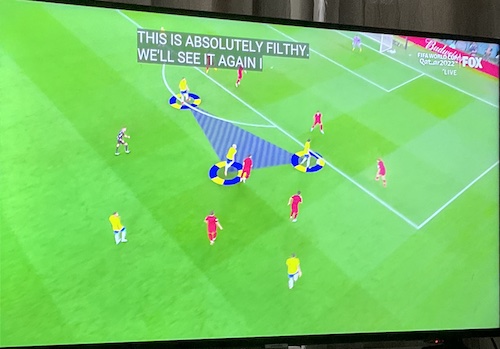 I wonder if that seal dribble or head juggling by Richarlison throws off the entire Korean defense. As if they are frozen or transfixed for a second watching what Richarlison is doing with the ball and forget who they are marking. I mean it does seem like they fell asleep for a second watching Richarlison head the ball up in the air.
Brazil just makes it look too easy 🔥

Richarlison makes it 3-0 in the first half 🇧🇷 pic.twitter.com/6vLfkeisna

— FOX Soccer (@FOXSoccer) December 5, 2022
And some third man running by Richarlison as he lets the ball go through to Thiago Silva who plays a crips pass right back to him. Ricardlison does dummy just leaves it for Silva. The Brazilian team in sync and ready to perform another dance after the goal.
Richarlison is having quite the World Cup so far for Brazil. Really making a name for himself with the Brazilian team so far in this tournament. If he hadn't just recently signed with Tottenham Hotspur I'd think he'd be headed for a bigger football club.