World Cup goals through defender's legs: How many times has this happened in the tournament in Qatar? What should defenders do to stop it happening? It's not a pure nutmeg either. It's something that just happens when the attacker goes to striker the ball and the defender is reaching to block the shot.
In the top image, I believe that's Australia's Harry Souttar letting the soccer ball go through his legs on the Messi goal. Souttar is 6 feet 6 inches tall, whose long legs are easy to strike the ball through. What's more, he should know better than to charge at Messi like that in the box. Not easy when everything is happening so fast but maybe if he didn't reach out so far he could have blocked the shot – keeping his legs closed – just standing up and holding his ground.
Getting scored on through one's legs is a bit like trying to play defense with your arms behind your back. There has to be some middle ground for defending in soccer where you're not opening your legs and not constricting yourself by putting your arms behind your back.
Again, it's not intentionally done. The attacker isn't trying to score through the defender's legs. It a product of when the defender is stretching to try to win the ball. Maybe defender's shouldn't try to reach to block the shot like this and or keep their legs closed near the goal area. Maybe it's just too late. You're already beaten when you reach like that. You're off balance at that point and not steady on your feet and able to stay with the dribbler.
Argentina's Lionel Messi scores through the Australia's defender Harry Souttar long legs.
Give Messi an inch, he will find the back of the net 🎯 pic.twitter.com/eamX9eQxqn

— FOX Soccer (@FOXSoccer) December 3, 2022
Australia's Mathew Leckie scored through the Denmark defender's legs.
It's the cut back and then the Denmark defender Joakim Maehle trying to recover and make a last gasp effort to block the shot that causes him to get scored on through his legs.
These situations are of course hard for the goalkeeper to see the ball. There's a moment where he might not be able to see the ball and then all of a sudden it's coming through the defender's legs.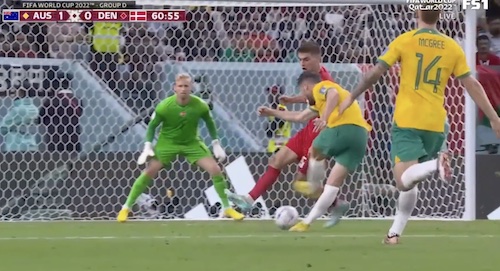 Not sure just how many World Cup goals through defender's legs after being scored in Qatar so far. It seems like a lot though. See Leckie through the legs goal below.
This goal by Mathew Leckie was CLINICAL 🇦🇺🔥 pic.twitter.com/3IdggxmYK5

— FOX Soccer (@FOXSoccer) November 30, 2022
And in the France versus England game the shot by Aurelien Tchouameni goes through Jude Bellingham's legs.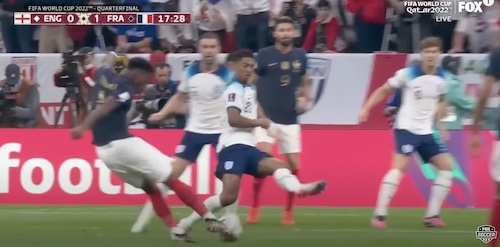 It seems like the solutions is not to rush out to try to block a shot. Especially if you're going to open your legs to reach the ball. Easier said than done though in an intense World Cup game. As a defender, and for Bellingham here, he's rushing to get to Tchouameni before he shoots. He has to block the shot somehow – he has to move fast.
Tchouaméni with a STRIKE

FRANCE TAKES THE LEAD 🇫🇷 pic.twitter.com/mXfgPWifES

— FOX Soccer (@FOXSoccer) December 10, 2022