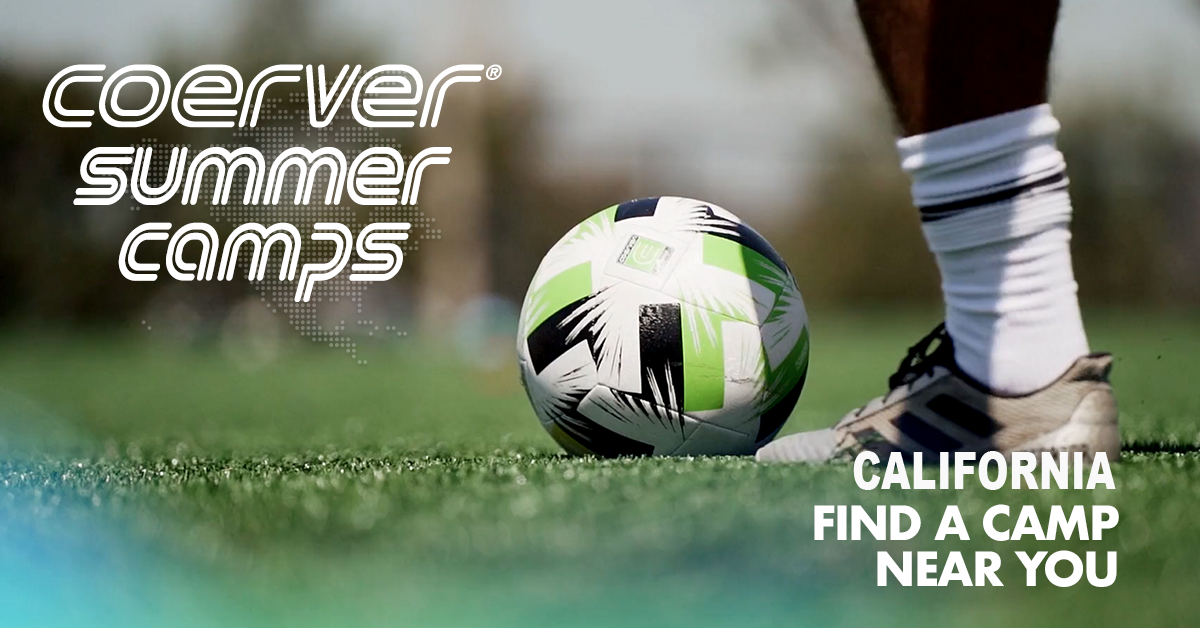 If you're looking for a soccer camp in California, you've come to the right place. Below you will find the best soccer camps available in the state of California. If you don't find the right soccer camp near where you live, it might be worth it to attend a quality soccer camp in a larger city or even another state nearby. Here are some of the best youth soccer camps in California to attend this summer.
Credit for the above image goes to Coerver Coaching, the leader in soccer coaching education globally.
Featured Soccer Camps
One. Soccer Schools – Celebrating 23 Years of Excellence in Soccer Education and Dynamic Training Environments
East and West Coast Elite Residential Academy Experience
www.onesoccerschools.com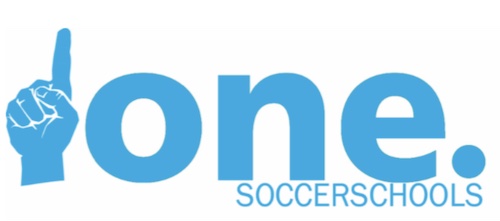 The East Coast (North Andover, MA – Brooks School) and West Coast (Santa Barbara, CA – Cate School) Our Residential programs are designed for the club player who has aspirations to play at the highest level. Our 5 Day Elite and 10 Day Academy Residential Programs offer a unique and specialized curriculum designed to maximize the individual player's growth and development, self-confidence and overall success during their stay. The Residential Program attracts talented players from across the United States. Players become part of the one. Family and continue to return every year to immerse themselves in the culture of one. Soccer and be part of the one. Family!
Our International Staff are hand selected for their knowledge, experience and enthusiasm to teach youth soccer players. These coaches have a strong commitment and desire to support players with their goals and ambitions while igniting a greater joy for the game!
For more information on the camp or to see if this would be a good option for your child, Contact our Resident Camp Director, Lloyd Biggs at lloyd@onesoccerschools.com
Office contact: (o) 805-845-6801 or info@onesoccerschools.com
Visit our website for more information: www.onesoccerschools.com
Soccer Camps International
www.soccercampsinternational.com  – The leader in online registrations for famous and Elite European Clubs Youth Summer Soccer Camps and Soccer Schools, offers players the opportunity to discover new ways of learning and developing soccer skills with players from all over the world in some of the world's best soccer countries including England, Spain, Italy, Portugal and France. Learn how to play the soccer style of Real Madrid, Barcelona, Manchester City, Chelsea, Arsenal, Liverpool, AC Milan, Juventus Turin, Benfica Lisbon, Paris Saint Germain and Bordeaux. Language Classes options available in France, Spain and England. Residential and Day Camp Sessions, Goalkeeper training sessions and girls sessions available. Cultural excursions in top European cities available for select camps. Register Online NOW
Nike Soccer Camps: www.ussportscamps.com/soccer
Get Better this summer at NIKE Soccer Camps! The Nike Soccer Camps provide youth soccer players the opportunity to improve their skills in a high-energy environment which includes morning and afternoon training sessions, small group offensive and defensive tactics and game play with top notch coaches. Offering coed, girls, and boys only programs at fantastic soccer venues with a safe, healthy and FUN learning environment for all ability levels for players of all levels and age ranges. Find soccer camps across the United States from the likes of Vogelsinger, Nike Soccer and the Soccer Academy! Register NOW
No. 1 Soccer Camps: www.no1soccercamps.com
The No.1 Soccer Camps are the leaders in soccer specialty camps for all ages and ability levels. Long recognized as the foremost training ground for goalkeepers and field players endeavoring to improve their soccer prowess, No.1 Soccer Camps will host locations throughout the United States with many new sites this year. In addition to our traditional Youth, Junior and Senior Academy, at select sites we are also offering our unique College Prep Performance Academy as well as our College ID Showcase Camps. Camps will be conducted in Arizona, Texas, Maryland, Ohio, Florida, Colorado, Massachusetts, Illinois, California, Georgia, Oregon, Virginia, Pennsylvania, New Hampshire, New York, South Carolina, Alabama, North Carolina, Michigan, Tennessee and Connecticut. Each campsite is organized into well balanced small groups of field players and goalkeepers with concentration of play on both sides of the ball in the 35 yards immediately in front of the goal, utilizing our unique Go to Goal curriculum. The Machnik Method is recognized as the industry standard. Many No.1 Soccer Camps present sold out situations so it is important to register early!
Register NOW
LA Galaxy Elite Youth Soccer Camps: www.lagalaxy.com
The LA Galaxy is proud and excited to offer a range of ELITE YOUTH PROGRAMS throughout the state of California. Explore your options below to find the programming that best fits your player!
Our specialized training sessions focus on technical and tactical development, activities that encourage creativity and match awareness, and discussions on game-related topics. We strive to identify and develop key players who could advance to play for the Galaxy Discovery Program, LA Galaxy Academy, LA Galaxy II or the LA Galaxy one day.
Register Online NOW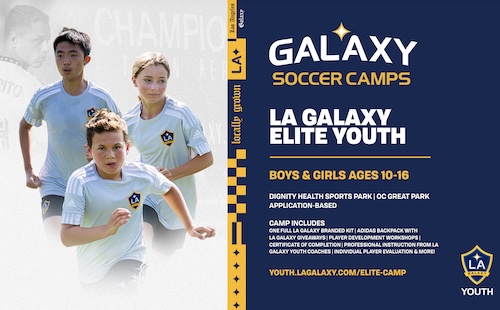 WHAT: Top specialized training sessions focus on technical and tactical development
AGES: 10-16 Years Old (Boys and Girls)
SKILL LEVEL: Intermediate, Competitive, Advanced, Elite (Examples: Flight 1, Silver Elite, ENCL, MLS Next or equivalent)
CAPACITY: To ensure the quality of our Programs, all Camps are limited to 15:1 (Camper to Coach) ratios and registration is first come, first serve.
International Development Academy: www.internationalda.com
IDA camps and player experiences are the new standard for international soccer camps. Designed for serious student-athletes, IDA's camps and player experiences combine elite training, player development, and competitive match-play against top competition. IDA Camps are offered year-round, with specific dates during the summer season. "The intensity of the training and schedule, the real games, the video footage for my highlight film – to name just a few. The whole experience was so different to what we are used to with summer camps and ID camps. Most camps these days are the same thing – show up, do some training, play some practice games with the same players. You can't really compare the two. If you want the real deal, IDA is your best bet."
Register Online NOW
North-East Residential Camp: www.newenglandsurf.com
The North-East Residential Camp is designed for like-minded Players (born in 2012-2011-2010-2008) who want to compete with the Best of the Best players in the North-East region and be coached by some of the best coaches at New England, New Jersey and Rhode Island Surf. 4 days of elite training, coaching, educational workshops, and internal competitions, at one of the best prep schools in New England. This is a fantastic opportunity for all the players to showcase their talents and get ready for the pre-season, and fall season with their clubs.
Register Online NOW
The Berkshire Soccer Academy for Girls: www.berkshiresocceracademy.com
Girls at the Academy receive elite training at top-quality facilities from our qualified and experienced coaching staff. One of the few specialty soccer camps set in a traditional camp environment, we focus on player improvement while deliberately infusing fun and friendship into the learning process. At the Academy, girls discover their greatness both on and off the field. The Academy is located in East Otis, Massachusetts, 10 miles north of the Connecticut border, and about 2 hours by car from Boston, and 2.5 hours from New York City.
All sessions run Sunday morning through Thursday afternoon. Those wishing to attend multiple sessions can attend a Bridge session from Thursday – Sunday (cost $495).
Camp Office Phone (all year): 800-326-9219
Learn more here: www.berkshiresocceracademy.com
---
California Soccer Camps
Arsenal Soccer Schools Day Camps
(www.arsenalsoccerschoolsusa.com/day-camps)
The Arsenal soccer camp is for both boys and girls. Arsenal Soccer Schools are offered in the USA through an exclusive partnership between Arsenal F.C and Summerfuel. For more than 30 years we have set the standard for extraordinary summer programs from elite sports camps to academic enrichment and study abroad programs. We are committed to the development and welfare of every participant and partner with leading soccer clubs, institutions and partner schools to ensure every participant has the best summer experience possible.
All camp soccer players receive an official Arsenal camp uniform, certificate, and Arsenal gift. Don't pass up the chance to attend a soccer camps in California run by one of Englands top football clubs.
Bear Valley Soccer Camp
(www.bvsoccercamp.com)
This program takes place at an elevation of 7100′ in the high Sierras providing a beautiful environment and comfortable weather while also adding a new dynamic to your training regiment with the thin mountain air. Overnight and day camp options are available!
Camp coaches:
Curtis McAlister
Jessica Perkin
Bonnie Niesen

California Golden Bears Soccer Camp
(http://calbears.cstv.com/camps/mens-soccer.html)
We hope you will join us this summer for our Cal Soccer Camps for Boys. Our staff is selected for their ability to coach, train and develop players, and includes some of the nation's best players and coaches. Our camp is designed for beginner through advanced level soccer players. Individuals are placed in groups with participants of similar age, size, and ability to ensure a beneficial training environment. We offer special goalkeeper sessions within each camp. Come join Coach Grimes and the Cal staff for lots of soccer and great fun!
Cal Athletic Camps E-Mail: calcamps@berkeley.edu
Cal Athletic Camps/Ticket Office Hotline: 1-800-GO-BEARS (1-800-462-3277) or (510) 642-3277
Fax: (510) 642-1765
Office: (510) 643-9957
Coerver Coaching USA Soccer Camps
(www.coerver.com)
Coerver Coaching's mission is to provide the world's best youth soccer educational services and products at its Player Camps, Schools and Coaches' Clinics. Our aim is to make the benefits of Coerver® Coaching available as widely as possible through our network of Coerver Coaching licensees. Coerver has camps across the country including soccer camps in California.
FREE Soccer Training Tips from Coerver Coaching: Enter your email address at this link to start your free soccer training tips: Six Steps to Soccer Success. Find Out Why Over 70,158 Coaches Love Coerver Coaching. Learn more about the The Coerver Coaching Method.
DeRosario Soccer Academy
(www.derosariosocceracademy.com)
Camps organized and separated by age group so each player will receive attention and age appropriate skills training and techniques. Activities include proper Technique for striking, dribbling, control, passing, receiving, one and two touch, heading, and small sided games to work on skills and fitness.
P.O. Box 521
Saratoga, CA 95071
Phone: (408) 858-2464
Fax: (408) 877-1668
Dave Fromer's 27th Annual Soccer Camps
(www.DaveFromerSoccer.com)
Summer Sessions for boys & girls ages 5-13; all levels, beginning-advanced. Featuring a top professional coaching staff and an emphasis on skill development & fun! Summer day camp sessions are offered weekly throughout the summer with sites in Southern, Central & Northern Marin, San Francisco, and North Lake Tahoe. Fromer is widely known as one of the best soccer camps in California to attend.
Camp hours are M-F, 9AM- 3PM. Extended supervision is available 8-9AM & 3-6PM at some sites. Swimming available in Mill Valley & Marinwood.
Phone: (415)-383-0320
Dusko & Juan Premier Soccer
(http://www.duskoandjuansoccer.com/)
We've created Dusko & Juan Premier Soccer to provide the opportunity to learn this magnificent sport in a serious but fun environment. Our professional coaches come from different soccer cultures and have played at a variety of levels, thus creating in unique training experience for our young players. We've put together all of our playing, teaching and coaching experiences to help your child learn and understand soccer, have fun and enjoy the beautiful game.
Dusko & Juan Premier Soccer offers spring, summer and winter camps. The camps are open to all ages 5-18. All levels are encourages to come out and play. Goalkeeper program is available.
You can register for as little as one day per week or all five days. Discounts are given for sibling registrations.
Dusko & Juan Premier Soccer
500 Francisco Drive #3
Burlingame, CA 94010
Dusko Rosic
Email: dulerosic@yahoo.com
Phone: (650) 218-9871
Juan Porras
Email: soccermaniajcp@yahoo.com
Phone: (650) 921-2188
EuroTech Soccer-America's 1# Camp & Tour Company
(www.eurotechsoccer.com)
One of the only integrated nationally recognized field player and goalkeeper programs in the country designed for competitive individual players as well as club and high school teams. Eurotech® Soccer Performance Center programs are located nationwide and combine challenging instruction, excellent competition, first class facilities and the finest national, collegiate and international coaching staff to create the most exciting camp experience in North America for boys and girls ages 7-18! Our mix of technical and tactical instruction, actual game situations and problem solving combined with tournament style matches will develop creative, versatile and confident soccer players.
Family Sports Camps, Inc: Joe Magno's Soccer Training Camp (http://www.familysportscamps.com/soccer/index.html)
Family Sports Brings you a Soccer Adventure on Beautiful Catalina Island! Learn from the Professional MLS Camps coaches and have the time of your life. Boat transportation, room, board, training and afternoon events are all included.
Fresno Pacific University Sunbirds Soccer Camps
(http://www.fresno.edu/)
Fresno Pacific is the Central Valley's only accredited Christian university. Offers advanced goalkeeper camp, advanced high school camp, day camp, junior goalkeeper camp, and a morning camp.
Go-4-Gold Soccer Schools
(http://www.go4goldsoccer.com/)
For the past twenty years Go 4 Gold has been Northern California's Premier Soccer School, educating young girls and boys of all ages in a fun, positive environment. All students are grouped by age and ability to maximize their soccer camp experience.
6571 Camden Ave.
San Jose, CA 95120
Phone: (408) 997-7775
Fax: (408) 997-7714
I Got Skills California Soccer Camps
(http://www.igotskills.com/soccer-training/camps/california-soccer-camps/)
The I Got Skills California Soccer Camps focus on footwork, technique, and moves to win. Players improve their soccer skills and develop confidence with the ball. We bring joy to soccer as we teach players to unleash their creativity and give them the confidence to play to their full potential. We offer a fun but structured environment that makes the players wan to keep playing, learning, and developing all day long.
John Doyle Soccer Camps
www.johndoylesoccercamps.com
"LET'S HAVE FUN". Since retiring from the MLS in 2000 after playing 132 games with the San Jose Earthquakes, John has earned honors in the world of youth sports through his work educating young soccer players to become better and more mature players.
Camps Location:
4680 Camino Tassajara Rd.
Danville, CA 94506
Contact Us:
JohnDoyleSoccer@comcast.net
(925) 759-6267
Kidz Love Soccer Summer Soccer Camps
(www.kidzlovesoccer.com)
Now celebrating our 26th year, KLS is dedicated to teaching children the world's most popular game within a nurturing environment. At Kidz Love Soccer the emphasis is always on fun! Located throughout the state of California, KLS provides the foremost in soccer camps and instruction for kids age 2 to 12, instilling an exuberant, skillful confidence, in the young player … through the Kidz Love Soccer method; a session experience includes age appropriate activities: skill demonstrations, fun games, and instructional scrimmages always conducted in a non-competitive, recreational format.
(800) 871-2275
(866) 590-9965 (for Pacific Northwest)
Kinder Kickz
(http://www.kinderkickz.com/kinder/home)
Help your child off to a healthy start with Kinder Kickz! Kinder Kickz is a non-competitive, activity-based program for children ages 18 months to 12 years. Kinder Kickz uses soccer as a vehicle to develop and educate young children about the benefits of an active and healthy lifestyle. The curriculum focuses on improving motor, social and soccer skills in a fun and positive environment. The Kinder Kickz Soccer Program is the perfect introduction into sports and group play.
707-953-2603
renee@kinderkickz.com
LA Galaxy Soccer Camp
(https://youth.lagalaxy.com/camps)
LA Galaxy Camps provide a platform for players of all ages and ability to play soccer in a challenging and exciting environment. Our professional USSF Certified youth coaching staff create a unique atmosphere for all players to receive the highest coaching instruction while enjoying being developed as a soccer player.
In various locations all around Southern California, our camps are designed to provide a better understanding of the game's overall tactics in a safe, fun, and competitive environment conducive for each player to learn and grow. The Galaxy hold soccer camps in California for players of all levels. Attend one of the best soccer camps in California and learn from the pros.
LEGENDS FC BOYS COLLEGE ID CAMP
(http://www.legendsfc.net/programs/boys-college-id-camp)
College coaches who will attend and scout players: UCLA, UCI, CSU Northridge, Point Loma, Embry Riddle, Loyola Marymount University, CSU Dominguez Hills, CSU Los Angeles, Cal Poly Pomona, Chapman University, La Sierra University, University of La Verne, Azusa Pacific University, CSU Fullerton, Hope International, Occidental College, Cal Baptist University, University of Redlands, Santiago Canyon College, Mt. SAC, Fullerton JC and many more.
Make Me a Pro Sports
(http://www.mmapsports.com/)
Through the use of sports training and education, Make Me A Pro Sports strives to instill a positive attitude within children that carries over to every aspect of their life. We offer fun and educational sports camps and classes that are taught by successful players and coaches who are specialists in each of the sports that we offer.
Sand & Surf Soccer Camps
(www.sandandsurfsoccer.com)
At Sand & Surf Soccer Club, the player comes first and all of our efforts are toward developing your child to the best of our ability. We pride ourselves on two pillars, great communication and great soccer training sessions.
Sand & Surf Club Director of coaching is Carl Dickson. Assistant director of coaching is Liam Delury.
Santa Clara Soccer Camps
(http://www.santaclarasoccercamps.com)
The Santa Clara Soccer Academy is proud to offer Half and Full Day camps, Advance Youth Residential camps and College ID Residential camps for boys and young men ages 6 to seniors in high school on the beautiful Santa Clara University campus. Each camp has sessions for both field players and goalkeepers. Camps are specifically designed at the highest level to target each player's unique age and skill level. Cameron Rast has been the head coach at Santa Clara University for the past 18 seasons and most recently was named West Coast Conference coach of the year in 2015. The 2019 season marked Eric Yamamoto's 28th year coaching at Santa Clara University.
Sonoma State Soccer
(http://sonomaseawolves.com)
Join the SSU men's soccer program for this one-day clinic that will be conducted similar to SSU training sessions and is a great way to prepare for the high school or club season. Don't miss out on this great opportunity to experience college level coaching and compete against other top players on the beautiful campus of Sonoma State University.  This camp will be directed by head coach Marcus Ziemer and his staff, including Ben Langwith.
Stanford Soccer Camp
(http://stanfordsoccer.com/camps-schedule.htm)
The Stanford Soccer Academy offers various camps for all levels of players. From the beginner to the advanced, the Stanford Soccer Academy teaches the enjoyment of the world's most popular game while supplying the tools necessary to bring your game to another level.
Two Rivers Soccer Camp
(www.tworiverssoccer.com)
Two Rivers Soccer Camp cordially invites you to come to camp this summer! Learn new soccer skills, enjoy the outdoors, experience personal growth and make new friends. Two Rivers offers a truly unique experience for the soccer enthusiast. Our camp, featuring European and American soccer coaches, creates an authentic soccer atmosphere. The camp, located in Graeagle, California is nestled in the majestic Sierra with two rushing streams bordering the 40-acre site.
UCLA Soccer Camps
(http://uclabruins.collegesports.com/camps/ucla-camps.html)
UCLA offers soccer camps (day and overnight) for girls and boys, ages 7-18, as well as a coed goalkeeper camps.
UCLA College ID Camp – Girl's Soccer Camp
uclabruins.collegesports.com
The UCLA Girl's Soccer College ID Camp – Presented by UCLA Health – provides an intense training experience for high school aged players seeking to learn what it takes to play competitive college soccer. Open to all girls aged 14-18, the College ID camp provides extensive field training and playing experience against fellow campers that are also among the best players in the country. In addition to on-field instruction, this overnight soccer camp offers a range of soccer-related activities, including: international game film study, conditioning improvement discussions, and forums on playing college soccer. Join a coaching staff that includes the UCLA Women's Soccer staff, current and former UCLA players, and top college coaches from around the country.
UC Davis Girls Soccer Academies
www.ucdavisaggies.com
Come join the UC Davis Coaching Staff and Players on the beautiful UC Davis Campus for one of our Residential Girls Soccer Academies (for ages 14 – 18).
Attend both Residential Academies: (4-Day & 2-Day)
For more information download the brochure at www.ucdavisaggies.com, email the UC Davis Women's Soccer office – aggiesoccer@ucdavis.edu or call – (530) 754-8117
University of San Diego Soccer Camps
(http://usdcamps.com/site3.aspx)
This camp is for serious soccer players who have been playing competitive soccer at the club level for at least one year. Skill development through drills and competitive games help each player gain a better understanding of the sport. We will highlight the skills required to develop a higher level of play.
USD Sports Camp Office
Sports Center
5998 Alcala Park
San Diego, CA 92110
Phone: (619)-260-2999
Fax: (619)-260-7750
sportscamps@sandiego.edu
University of San Francisco Soccer Camps
(http://usfdons.collegesports.com/camps/wsoc.html)
The USF Day Camp is focused on teaching fundamental skills and introducing basic game strategy; this is an outstanding camp either for those just learning soccer or for those already playing on teams. Players will focus on all the key aspects of playing soccer from passing, receiving, shooting, turning and ball control. Sessions will be structured around small sided games with these elements.
Vogelsinger Soccer Academy
at University of California, Santa Barbara
(http://www.ussportscamps.com/soccer/vogelsinger/nike-vogelsinger-soccer-academy-university-of-california-santa-barbara/)
Our professional staff consists of master teachers whose demonstrations include demanding instruction, step-by-step clarification, and playful joking to bring out the most sensitive technical points for you to grasp and imitate. Join us for one of the best soccer camps in California this summer.
Our international, professional coaching staff is selected for their passion for the game and ability to teach. The ratio of coaches to players in the Academy is 1:8 and in the All-Star programs 1:10.
Players receive a complete Nike uniform and Nike soccer ball.
Self-evaluation at the beginning of the program and oral and written evaluations at the conclusion.
Soccerobics, offered each morning at 6:45am, is a system of carefully designed exercises with the ball, incorporating soccer skills with aerobic and physical conditioning.
Players are on-the-field training for 43 1/2 hours each week.
Special goalkeeping training is offered at each site.
World Cup Soccer Camps & Clinics by Ruedi Graf
(http://www.worldcupsoccercamps.com/)
Since 1992 World Cup Soccer Camps & Clinics has successfully offered the most fun, most educational and safest camps and clinics in the San Francisco Bay Area. We conduct camps and clinics for all levels. Whether your child is just learning soccer, a competitive player, a high school player or goalkeeper, we offer the right camp. Our professional team of directors, coaches and staff is committed to providing every child with a positive and challenging experience. Attend one of Ruedi Graf's soccer camps in California this summer.
World Cup Soccer Camps & Clinics
3141 Stevens Creek Blvd #300
San Jose, CA 95117
Tel: (408) 354-4949
Fax: (408) 354-4747