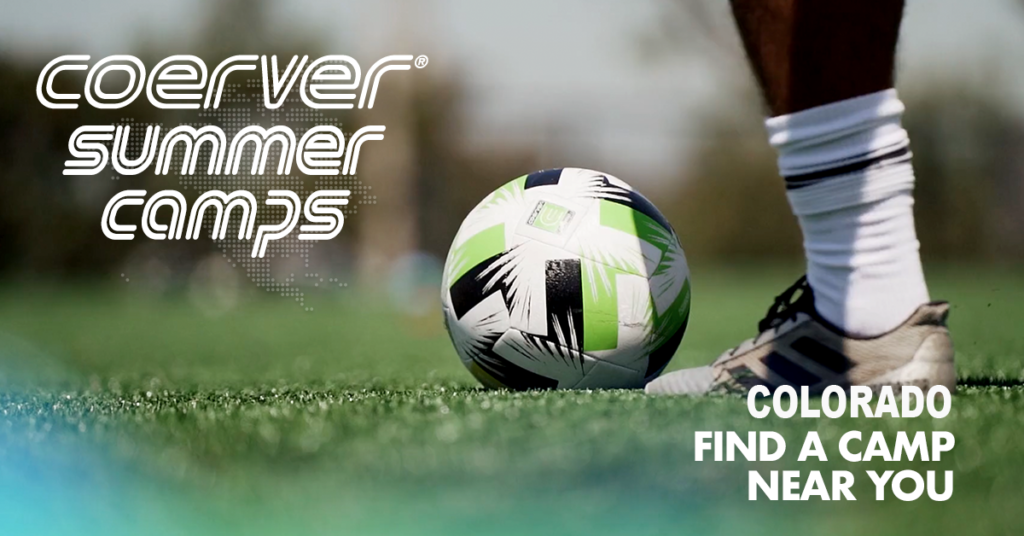 If you're looking for a soccer camp in Colorado, you've come to the right place. Below you will find the best soccer camps available in the state of Colorado. If you don't find the right soccer camp near where you live, it might be worth it to attend a quality soccer camp in a larger city or even another state nearby. Here are some of the best youth soccer camps in Colorado to attend this summer.
Featured Soccer Camps
Soccer Camps International
www.soccercampsinternational.com  – The leader in online registrations for famous and Elite European Clubs Youth Summer Soccer Camps and Soccer Schools, offers players the opportunity to discover new ways of learning and developing soccer skills with players from all over the world in some of the world's best soccer countries including England, Spain, Italy, Portugal and France. Learn how to play the soccer style of Real Madrid, Barcelona, Manchester City, Chelsea, Arsenal, Liverpool, AC Milan, Juventus Turin, Benfica Lisbon, Paris Saint Germain and Bordeaux. Language Classes options available in France, Spain and England. Residential and Day Camp Sessions, Goalkeeper training sessions and girls sessions available. Cultural excursions in top European cities available for select camps. Register Online NOW
Nike Soccer Camps: www.ussportscamps.com/soccer
Get Better this summer at NIKE Soccer Camps! The Nike Soccer Camps provide youth soccer players the opportunity to improve their skills in a high-energy environment which includes morning and afternoon training sessions, small group offensive and defensive tactics and game play with top notch coaches. Offering coed, girls, and boys only programs at fantastic soccer venues with a safe, healthy and FUN learning environment for all ability levels for players of all levels and age ranges. Find soccer camps across the United States from the likes of Vogelsinger, Nike Soccer and the Soccer Academy! Register NOW
No. 1 Soccer Camps: www.no1soccercamps.com
The No.1 Soccer Camps are the leaders in soccer specialty camps for all ages and ability levels. Long recognized as the foremost training ground for goalkeepers and field players endeavoring to improve their soccer prowess, No.1 Soccer Camps will host locations throughout the United States with many new sites this year. In addition to our traditional Youth, Junior and Senior Academy, at select sites we are also offering our unique College Prep Performance Academy as well as our College ID Showcase Camps. Camps will be conducted in Arizona, Texas, Maryland, Ohio, Florida, Colorado, Massachusetts, Illinois, California, Georgia, Oregon, Virginia, Pennsylvania, New Hampshire, New York, South Carolina, Alabama, North Carolina, Michigan, Tennessee and Connecticut. Each campsite is organized into well balanced small groups of field players and goalkeepers with concentration of play on both sides of the ball in the 35 yards immediately in front of the goal, utilizing our unique Go to Goal curriculum. The Machnik Method is recognized as the industry standard. Many No.1 Soccer Camps present sold out situations so it is important to register early!
Register NOW
International Development Academy: www.internationalda.com
IDA camps and player experiences are the new standard for international soccer camps. Designed for serious student-athletes, IDA's camps and player experiences combine elite training, player development, and competitive match-play against top competition. IDA Camps are offered year-round, with specific dates during the summer season. "The intensity of the training and schedule, the real games, the video footage for my highlight film – to name just a few. The whole experience was so different to what we are used to with summer camps and ID camps. Most camps these days are the same thing – show up, do some training, play some practice games with the same players. You can't really compare the two. If you want the real deal, IDA is your best bet."
Register Online NOW
North-East Residential Camp: www.newenglandsurf.com
The North-East Residential Camp is designed for like-minded Players (born in 2012-2011-2010-2008) who want to compete with the Best of the Best players in the North-East region and be coached by some of the best coaches at New England, New Jersey and Rhode Island Surf. 4 days of elite training, coaching, educational workshops, and internal competitions, at one of the best prep schools in New England. This is a fantastic opportunity for all the players to showcase their talents and get ready for the pre-season, and fall season with their clubs.
Register Online NOW
The Berkshire Soccer Academy for Girls: www.berkshiresocceracademy.com
Girls at the Academy receive elite training at top-quality facilities from our qualified and experienced coaching staff. One of the few specialty soccer camps set in a traditional camp environment, we focus on player improvement while deliberately infusing fun and friendship into the learning process. At the Academy, girls discover their greatness both on and off the field. The Academy is located in East Otis, Massachusetts, 10 miles north of the Connecticut border, and about 2 hours by car from Boston, and 2.5 hours from New York City.
All sessions run Sunday morning through Thursday afternoon. Those wishing to attend multiple sessions can attend a Bridge session from Thursday – Sunday (cost $495).
Camp Office Phone (all year): 800-326-9219
Learn more here: www.berkshiresocceracademy.com
LA Galaxy Elite Youth Soccer Camps: www.lagalaxy.com
The LA Galaxy is proud and excited to offer a range of ELITE YOUTH PROGRAMS throughout the state of California. Explore your options below to find the programming that best fits your player!
Our specialized training sessions focus on technical and tactical development, activities that encourage creativity and match awareness, and discussions on game-related topics. We strive to identify and develop key players who could advance to play for the Galaxy Discovery Program, LA Galaxy Academy, LA Galaxy II or the LA Galaxy one day.
Register Online NOW
WHAT: Top specialized training sessions focus on technical and tactical development
AGES: 10-16 Years Old (Boys and Girls)
SKILL LEVEL: Intermediate, Competitive, Advanced, Elite (Examples: Flight 1, Silver Elite, ENCL, MLS Next or equivalent)
CAPACITY: To ensure the quality of our Programs, all Camps are limited to 15:1 (Camper to Coach) ratios and registration is first come, first serve
One. Soccer Schools Residential Experience: www.onesoccerschools.com
The California Residential programs are designed for the serious, motivated player who has the passion, desire and aspirations to play at the highest level. Our 5, 10 & 15 Day Residential Programs offer a unique and specialized curriculum designed to maximize the individual player's growth and development, self-confidence and overall success during their stay. The residential program attracts talented players from across the United States. Players continue to return every year for the total soccer environment and family they become part of. Our staff are hand picked for their passion and experience within youth soccer! Our training methodology is simple, let the game be the teacher and the coach be the guide. The four 45-minute morning sessions are devoted to the players technical toolbox. The three 45-minute afternoon training sessions are devoted to the four moments of the game, transitions, offense and defense.
Our well thought out themed games look like soccer, and create a highly competitive, challenging, educational and enjoyable experience for the player! The two 45 minute evening sessions are all about competing in small sided games and 2v2 Footvolley. Sprinkle some Qualified Yoga Instruction, Inspirational learning modules on both Nutrition for recovery and health, and team culture and core values, creates an environment unlike no other! For more information on the camp or to see if this would be a good option for your child, contact our Resident Camp Director, Lloyd Biggs at lloyd@onesoccerschools.com and/or visit our website at www.onesoccerschools.com
---
Colorado Soccer Camps

Boulder County Force
(http://www.bcforce.com)
No matter your age, and no matter your skill level, the Boulder County Force empowers you to become a superior soccer player. With teams that service all age groups and all levels of play, we enable our players to compete at their highest potential – from their first soccer experience through the rest of their lives. Whether you're an 8-year-old child or middle-aged adult, you'll count your experiences with the Boulder County Force as an indelible part of your life. And you'll acquire a love of the game – for all the right reasons – that will last your lifetime.
Callaghan's English Soccer Camps
(http://www.callaghansoccer.com)
Callaghan's English Soccer Camps were founded in 1993 when Englishman Ed Callaghan produced his first summer soccer camps in Colorado. Having just completed our 15th summer of camps, we believe we have a fantastic camp program which is second to none! We are firmly committed to producing work of a top-class standard and we strive to make each camp a positive, rewarding and enjoyable experience for all our players.
Phone: (602) 214 0780
edc@callaghansoccer.com
University of Colorado at Boulder Soccer Camps
www.cubuffs.com/sports/2018/11/12/colorado-soccer-camps.aspx
Colorado University coaching staff, led by head coach Danny Sanchez, is recognized among the best in college soccer. In 23 years of coaching at the collegiate level, Sanchez has amassed 350 wins and has a winning percentage of .744. At CU, his teams have reached the NCAA Tournament four times in the past six seasons. During his six-year tenure at Metro State, he led the Roadrunners to two NCAA Division II national championships.
Colorado School of Mines Keep'n and Krank'n
(www.cusoccercamp.com)
Colorado Soccer Camps are designed for Boys and Girls of all different ability levels for a rewarding and enjoyable experience. Our staff features Colorado Coaches, current and former Colorado players, college, club, and high school coaches from around the world. Participants will receive training in competitive soccer fundamentals, tactics, and advanced training techniques. The skills you learn at each training session can immediately be put to use and you are encouraged to try what you've learned.
Colorado Soccer Camp
UCB 372
Boulder, CO 80309-0372
Phone: (303)-735-0530
Fax: (303)-492-1709
cusoccercamp@ aol.com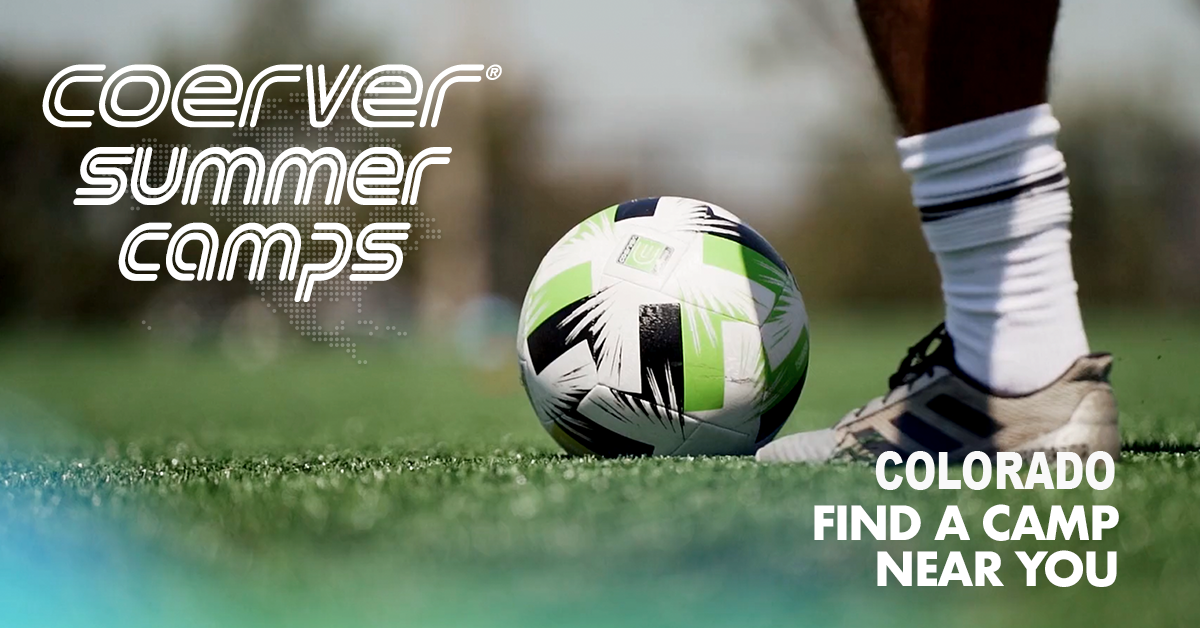 Coerver Coaching USA Soccer Camps – Colorado
Click here to see the 2023 schedule
Every Coerver® Colorado program follows a detailed written curriculum. The seven level summer camp curriculum begins with helping players develop comfort with the ball at their feet, then turns to mastering soccer's essential skills and best habits. Players develop the ability to use their skills with confidence and creativity under ever-increasing pressure, first in the 1v1 situation then in small group settings (2v1, 2v2, 3v1, 3v2, etc.) which are the building blocks of team play. The entire curriculum is evaluated and upgraded annually in order to guarantee active, fast-paced programs of instruction, practice and play.
Campers work in Teams of 10-14 players of similar age and ability. Much effort goes into creating Teams where no camper will dominate – or slow down – the group. For Monday mornings, the camp roster is initially sorted by previous Coerver experience (players TrueScore), age and coaches recommendations. The curriculum for Monday morning is designed to assure the competitive compatibility of the Teams and allows for Camp Directors to make any changes that are needed.
Coerver Coaching's mission is to provide the world's best youth soccer educational services and products at its Player Camps, Schools and Coaches' Clinics. Our aim is to make the benefits of Coerver® Coaching available as widely as possible through our network of Coerver Coaching licensees. Coerver has camps across the United States including soccer camps in Colorado.
FREE Soccer Training Tips from Coerver Coaching: Enter your email address at this link to start your free soccer training tips: Six Steps to Soccer Success. Find Out Why Over 70,158 Coaches Love Coerver Coaching. Learn more about the The Coerver Coaching Method.
Colorado Rapids Soccer Camps
(https://rapidsyouthsoccer.org/soccer-camps/)
Rapids Youth Soccer provides Colorado's best youth soccer camps. Camps are offered throughout the year for three-year-olds to 18-year-olds, from beginner to elite. Learn from the nations's top coaches in a fun, educational, and exciting environment. Use the filters below to find the best youth soccer camps in Colorado that fit your player's needs and desires. Learn from Rapids' coaches and players at one of our camps this summer.
Colorado Rapids Youth Soccer
111 Havana St, Suite 120 Aurora, CO 80010
Phone Number: 303-399-5858
Email: info@rapidsyouthsoccer.org
Dutch Soccer School
(www.dutchsoccerschool.com)
Dutch Soccer School is designed for players and coaches looking for camps and clinics with guaranteed top-level instruction in a fun-learning environment. To guarantee the Dutch way of coaching we fly in our coaches from the Netherlands. At its foundation stands Rinus Michels, the man who 'invented' Total Soccer in the '70's. His ideas are the basis of all the Dutch Soccer School programs, founded on the premise that the player's ball control and tactical development always receive top priority in training. Attend one of Dutch Soccer School's soccer camps in Colorado this summer.
Dutch Soccer School
5973 Charles Crossing, Ellicott City, MD 21043
Phone: 410-978-8220
Email: info@dutchsoccerschool.com
Nova Soccer Camps
(http://www.novasoccer.com/)
Our camps are designed for kids ages 5-10 who are looking to learn/improve as soccer players. Nova Soccer Camps train kids to become better soccer players using a game oriented approach towards learning. This approach allows young kids to learn the skills(dribbling, passing, shooting, trapping, and heading) involved in the game of soccer in an fun exciting format.
Phone: (303)-443-1618
Toll Free: 1-866-917-3925
Fax: (303)-443-8868
admin@novasoccer.com
Regis Soccer Academy
(http://www.regissocceracademy.com)
The Regis Soccer Academy offers the cutting edge of player development. We believe in helping to develop the soccer player in all aspects; technically, tactically, psychologically and physically. With a participant to staff ratio of 9 to 1, each player receives the individual attention they deserve to better themselves in all aspects of the game. We believe in providing the best quality available for each individual participant to improve his/her soccer skills so he/she becomes even more passionate about playing the great game of soccer.
Academy Director J.B. BELZER
Phone: 303-458-4981
Phone: 303-458-4200
Rocky Mountain Soccer Camps, Inc.
(http://www.intermark.com/rmsc/perdew.asp)
The goal of the Rocky Mountain Soccer Camps, Inc. is to provide a fun, safe, and creative learning environment that promotes the integrity of the game of soccer. Our credentials are unmatched by any other camp in efforts to provide the finest soccer instruction available. The men and women coaching at the RMSC are able to teach their knowledge of the game in a way that allows for easy understanding and quick improvement.
Phone: 1-800-831-6749
rockymtnsoccercamp@juno.com
Stars of Brazil Soccer Academy
(http://www.starsofbrazil.com)
Stars of Brazil Soccer Academy is designed for serious players wanting to take their game to a higher level. Brazil is recognized as perhaps the preeminent soccer power, winning an unprecedented five World Cups, and producing soccer legends like Pele, Romario, Ronaldo, and Ronaldinho.
Phone: (720)-221-8229
customerservice@starsofbrazil.com
Steamboat Soccer Academy
(http://www.steamboatsocceracademy.com/)
We have been delivering the ultimate soccer camp program for 14 years and invite you to break away from the norm – come train in the isolation of the Colorado Rocky Mountains. Great weather, unparalleled views, pristine setting, and passionate soccer people make the Steamboat Soccer Academy a serious soccer camp for serious soccer players. Come experience the ultimate peak training ground.
Post Office Box 773551
Steamboat Springs, CO 80477
Email: training@steamboatsocceracademy.com
Phone: 970.870.3366
Total Soccer Academy
(http://www.totalsocceracademy.com/index.htm)
We are interested in developing and encouraging young soccer players to make the right decisions in game-like situations. We emphasize the development of individual and team tactics, fitness and psychological aspects of the game. Our techniques, when applied, create skillful players who perform well under pressure having learned how to make the right decision at the right moment on the soccer field. And that, we feel, is the key to successful soccer playing. The Academy achieves these objectives through the expert coaching provided by a select group of top Dutch and American coaches.
Phone: (303)-338-9017
Vogelsinger Soccer Camp at University Of Northern Colorado
(http://www.vogelsingersoccer.com)
The University of Northern Colorado, located in the small and friendly mountain community of Greeley, is only an hour drive north of Denver. Players ages nine and up benefit from the warm summer climate while pushing their bodies and minds to the limit. Recently renovated, carpeted and air-conditioned dormitories provide the perfect place to relax and rejuvenate after a tough day on the soccer field. Vogelsinger Soccer is the place to go if you are a serious soccer player and if you love the game. Attend one of the best soccer camps in Colorado this summer.
Programs: Field Player Goalkeeper
Gender: Co-Ed Minimum Age: 9 Maximum Age: 18
Overnight: $815.00
Extended Day: 6:30 AM – 9:00 PM $715.00