Soccer soccer camps: Since soccer camps are often the first introduction to soccer for many youngsters, it's important to choose a summer soccer camp that does more than just baby-sit. For kids starting to play soccer at ages anywhere from four to six years old, soccer can become passion rarely quickly —one that takes up their time in a constructive, positive and healthy way. Making soccer something they love and want to master, whether it's juggling, dribbling or bending the ball around a wall, a soccer camp is great investment into not just your child's soccer future, but their well-being.
Let's look at some summer camps for 2023.
A focused week at a summer soccer camp can change the course of many a soccer player's career, boosting their confidence and helping them move on to a more advanced soccer club and play at a higher level. Soccer camps enable young players to not only improve their soccer skills but have fun and play in competitive scrimmages. Summer soccer camps are an ideal way for kids to learn from expert coaches and former professional soccer players and take their game to the next level.
One. Soccer Schools www.onesoccerschools.com The East Coast (North Andover, MA – Brooks School) and West Coast (Santa Barbara, CA – Cate School) Our Residential programs are designed for the club player who has aspirations to play at the highest level. Our 5 Day Elite and 10 Day Academy Residential Programs offer a unique and specialized curriculum designed to maximize the individual player's growth and development, self-confidence and overall success during their stay. The Residential Program attracts talented players from across the United States. Players become part of the one. Family and continue to return every year to immerse themselves in the culture of one. Soccer and be part of the one. Family!
Early Bird Pricing Until February 15th, 2022
West Coast Elite Residential Program
Santa Barbara, CA – Cate School
4-night / 5-Day Elite Programs: Cost – $749
June 19 – 23, June 24 – 28, July 10 – 14, July 15 – 19
9-Night / 10-Day Academy Programs: Cost – $1,599
June 19 – 28, July 10 – 19
East Coast Elite Residential Program
North Andover, MA – Brooks School
4-night / 5-Day Elite Programs: Cost – $859
July 24-28 , July 29-August 2
9-Night / 10-Day Academy Programs: Cost – 1,799
July 24-August 2
For more information on the camp or to see if this would be a good option for your child, Contact our Resident Camp Director, Lloyd Biggs at lloyd@onesoccerschools.com
Office contact: (o) 805-845-6801 or info@onesoccerschools.com
Visit our website for more information: www.onesoccerschools.com
The Berkshire Soccer Academy for Girls: www.berkshiresocceracademy.com
Girls at the Academy receive elite training at top-quality facilities from our qualified and experienced coaching staff. One of the few specialty soccer camps set in a traditional camp environment, we focus on player improvement while deliberately infusing fun and friendship into the learning process. At the Academy, girls discover their greatness both on and off the field. The Academy is located in East Otis, Massachusetts, 10 miles north of the Connecticut border, and about 2 hours by car from Boston, and 2.5 hours from New York City. Attend one of the best girls summer soccer camps at Berkshire Academy.
Summer 2022 Sessions (June 19 – August 16):
Sessions 1 with TeamFirst (Mia Hamm, Kristine Lilly & Tisha Hoch) – Tuition $1,895
Session 2 – Tuition $1,595
Sessions 3– Tuition $1,595
Session 4 – Tuition $1,795
Session 5 with a Visiting Pro – Tuition $1,850
Session 6 – Tuition $1,795
Session 7 – Tuition $1,795
Session 8 – Tuition $1,695
Session 9 With TeamFirst Mini Camp – Tuition $1,295
All sessions run Sunday morning through Thursday afternoon*. Those wishing to attend multiple sessions can attend a Bridge session from Thursday – Sunday (cost $495).
*Session 9 runs from Sunday morning through Tuesday afternoon.
Camp Office Phone (all year): 800-326-9219
Learn more here: www.berkshiresocceracademy.com
Soccer Camps International
www.soccercampsinternational.com: The leader in online registrations for famous and Elite European Clubs Youth Summer Soccer Camps and Soccer Schools, offers players the opportunity to discover new ways of learning and developing soccer skills with players from all over the world in some of the world's best soccer countries including England, Spain, Italy, Portugal and France.
Learn how to play the soccer style of Real Madrid, Barcelona, Manchester City, Chelsea, Arsenal, Liverpool, AC Milan, Juventus Turin, Benfica Lisbon, Paris Saint Germain and Bordeaux. Language Classes options available in France, Spain and England. Residential and Day Camp Sessions, Goalkeeper training sessions and girls sessions available. Cultural excursions in top European cities available for select camps. Register Online NOW
Arsenal Football Development Camps: www.arsenalcampsus.com
Arsenal Football Development camps are an exclusive opportunity for boys and girls ages 8 – 16 to experience the methodology of one of the world's most successful clubs. Official Arsenal coaches conduct training sessions that come directly from the famed Arsenal academy at Hale End. Players enjoy insider access to the proven methods Arsenal use to develop its own youth talent for the complete soccer experience. Our camps are club neutral and designed to supplement and complement existing training experience. Summer 2022 Arsenal camps will be held exclusively in New York City, Greenwich and Baltimore. An Official Technical Director together with UEFA Coaches and Football Development coaches lead all of the daily sessions throughout the camp to assure the same level of quality, professionalism and authenticity that is received in London. Attend one of Arsenal's summer soccer camps. Register Online NOW
Nike Soccer Camps: www.ussportscamps.com/soccer
Get Better this summer at NIKE Soccer Camps! The Nike Soccer Camps provide youth soccer players the opportunity to improve their skills in a high-energy environment which includes morning and afternoon training sessions, small group offensive and defensive tactics and game play with top notch coaches.
Offering coed, girls, and boys only programs at fantastic soccer venues with a safe, healthy and FUN learning environment for all ability levels for players of all levels and age ranges. Find soccer camps across the United States from the likes of Vogelsinger, Nike Soccer and the Soccer Academy! Register NOW
LA Galaxy Elite Youth Soccer Camps: www.lagalaxy.com
The LA Galaxy is proud and excited to offer a range of ELITE YOUTH PROGRAMS throughout the state of California. Explore your options below to find the programming that best fits your player!
Our specialized training sessions focus on technical and tactical development, activities that encourage creativity and match awareness, and discussions on game-related topics. We strive to identify and develop key players who could advance to play for the Galaxy Discovery Program, LA Galaxy Academy, LA Galaxy II or the LA Galaxy one day.
Register Online NOW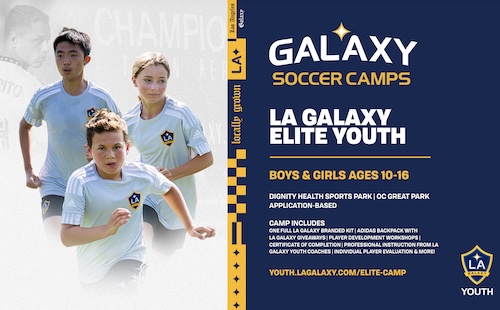 No. 1 Soccer Camps: www.no1soccercamps.com
The No.1 Soccer Camps are the leaders in soccer specialty camps for all ages and ability levels. Long recognized as the foremost training ground for goalkeepers and field players endeavoring to improve their soccer prowess, No.1 Soccer Camps will host locations throughout the United States with many new sites this year.
In addition to our traditional Youth, Junior and Senior Academy, at select sites we are also offering our unique College Prep Performance Academy as well as our College ID Showcase Camps. Camps will be conducted in Arizona, Texas, Maryland, Ohio, Florida, Colorado, Massachusetts, Illinois, California, Georgia, Oregon, Virginia, Pennsylvania, New Hampshire, New York, South Carolina, Alabama, North Carolina, Michigan, Tennessee and Connecticut.
Each campsite is organized into well balanced small groups of field players and goalkeepers with concentration of play on both sides of the ball in the 35 yards immediately in front of the goal, utilizing our unique Go to Goal curriculum. The Machnik Method is recognized as the industry standard. Many No.1 Soccer Camps present sold out situations so it is important to register early! Register NOW
International Development Academy: www.internationalda.com
IDA camps and player experiences are the new standard for international soccer camps. Designed for serious student-athletes, IDA's camps and player experiences combine elite training, player development, and competitive match-play against top competition. IDA Camps are offered year-round, with specific dates during the summer season. "The intensity of the training and schedule, the real games, the video footage for my highlight film – to name just a few. The whole experience was so different to what we are used to with summer camps and ID camps. Most camps these days are the same thing – show up, do some training, play some practice games with the same players. You can't really compare the two. If you want the real deal, IDA is your best bet."
Register Online NOW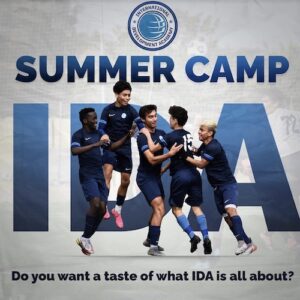 North-East Residential Camp: www.newenglandsurf.com
The North-East Residential Camp is designed for like-minded Players (born in 2012-2011-2010-2008) who want to compete with the Best of the Best players in the North-East region and be coached by some of the best coaches at New England, New Jersey and Rhode Island Surf. 4 days of elite training, coaching, educational workshops, and internal competitions, at one of the best prep schools in New England. This is a fantastic opportunity for all the players to showcase their talents and get ready for the pre-season, and fall season with their clubs.
Register Online NOW
Coerver Coaching Soccer Camps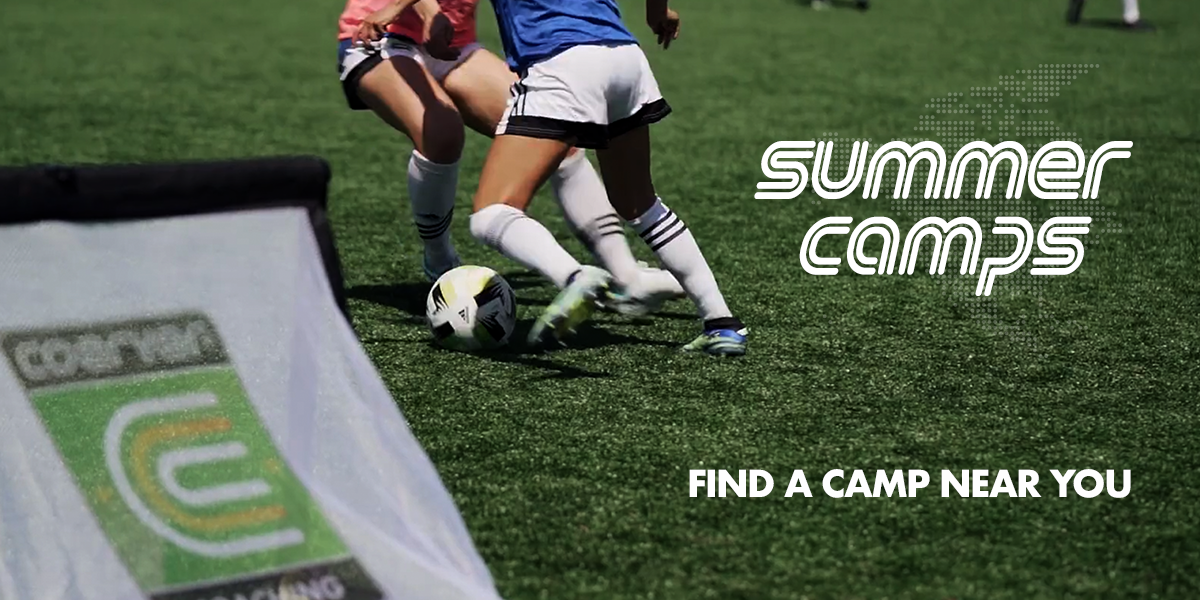 Coerver Coaching has been a leader in global soccer education for over 39 years.  With programs in over 50 countries and 36 States in the USA.  It is no surprise that it is recognized as, "The World's Number One Soccer Skills Teaching Method."
Choose one these summer soccer camps and not only improve your game but have fun this summer! Again, soccer camps are the ideal way to improve your skills and gain new knowledge from soccer coaches and experts. Summer soccer camps allow you as a player to focus on your game for a solid week and challenge yourself against other players.