Alex Morgan is the new star of women's soccer after a superb World Cup in Germany. But now she's becoming a star off the soccer field as well. This of course is no surprise, as she clearly gorgeous and an amazing soccer player with speed and a nose for the goal. The latest news is that Morgan has been painted over for the Sports Illustrated swimsuit issue.

Morgan has many roles or looks that she plays, as a forward of course but then many more as well.

The newest look for Alex Morgan, mom to be. Morgan is set to have another new role and look, that of mother, but she's still training to prepare for the upcoming Olympics this summer.

Alex Morgan Mom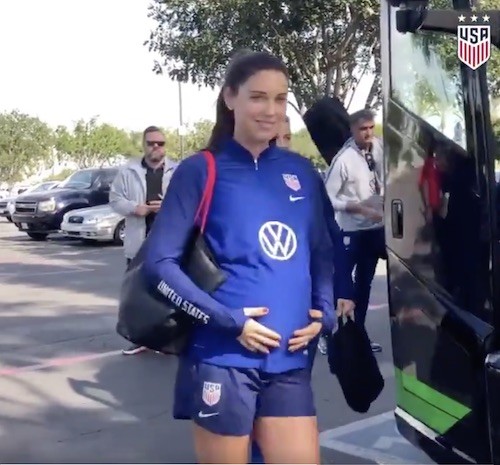 GAME DAY!! Olympics is finally here and I'm so proud to represent Team USA at #tokyo2020 pic.twitter.com/WIV3TwiqLR

— Alex Morgan (@alexmorgan13) July 21, 2021
Clint Dempsey's wife was painted over for SI you know, why can't Alex Morgan. Here's a quick look as some of Morgan's looks over the past few years. She's been busy. It's like some kind of barbie doll series with looks for each occasion. What's clear though is Morgan is proving to be the best women's soccer player in the world right now, scoring big goals in big games week after week. Every women's soccer team in the world would love to sign her.
Morgan's speed and running off the ball and ability to score goals make her a unique soccer player that sets the U.S. women's team apart. When she's on the field there's always the chance her team can score.
Alex Morgan wins Best Female Athlete at the 2019 ESPYS, and the United States Women's National Team takes home the ESPY for Best Team.
Really though, Alex Morgan is now a role model for a lot of young soccer players.
The way kids look at her, she's more than soccer ❤️ thank u @alexmorgan13 for being an amazing role model!#AM13 | #AlexMorgan13 pic.twitter.com/VhoWLaXG6I

— Best Of Alex Morgan (@BestAlexMorgan) July 23, 2019