Leaders of the world watch the beautiful game: David Cameron of course celebrates Chelsea winning the Champions League final. Angela Merkel is of course crushed by Bayern Munich's loss. And it looks like Obama is just cheering the craziness of it all. It's a good picture of the group. Good to see Obama, Merkel and a very happy Cameron taking in a Champions League football match together.

Obama of course is a soccer fan, especially of the United States women's national team. See him and his family watching a game on TV.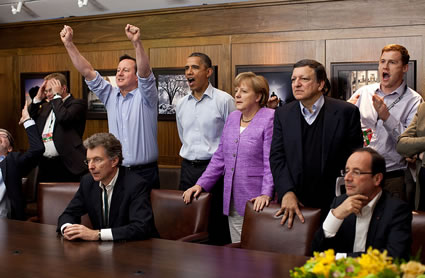 From Bloomberg. Obama, Merkel, and Cameron Watch Champions League match. Image credit to Bloomberg.
Awkward, huh? Your friends are rooting for different teams, and you're the host in the middle. The awkwardness is multiplied a thousand times when you're the president of the U.S. and your two friends are the British prime minister and the chancellor of Germany. The relationship between David Cameron and Angela Merkel was testy even before the start of the Champions League football final on Sunday between Chelsea and Bayern Munich, which Chelsea won. In 1969, El Salvador and Honduras fought a war that was triggered by a soccer match ("La Guerra del Futbol"). Of course, Germany and Britain have had their own unpleasantness in the past ("World War II").
Prime Minister David Cameron of the United Kingdom, President Barack Obama, Chancellor Angela Merkel of Germany, José Manuel Barroso, President of the European Commission, and others watch the overtime shootout of the Chelsea vs. Bayern Munich Champions League final, in the Laurel Cabin conference room during the G8 Summit at Camp David, Md., May 19, 2012. (Official White House Photo by Pete Souza)