Make your move DVD by Coerver Coaching. This is perhaps the best Coerver Coaching DVD available, since you get 5 DVDs in the package – and 5 DVDs are about helping you get better touch and enhance your skills on the soccer ball. The Coerver store describes this as "the most complete package of soccer instructional content we have ever put together", with new online access to all drills and videos to explain "everything we teach about improving soccer skills at our camps and clinics".

In short, this gives players the ultimate 1v1 survival kit, building their skills to increase their comfort on the soccer ball. Consider it a Player Development Coach that arrives in the mail.

Learn the skills and gain the confidence to succeed in the game with Coerver Coaching's Make Your Move DVD system! Built around our unique and highly effective Pyramid of Player Development, the Coerver exercises on these discs build an all-around soccer competitor with advanced skills for handling the ball alone and against the competition during attack and defense. Get ready to be poised and confident, both physically and mentally, with the skills learned from Coerver's best selling DVD set, including: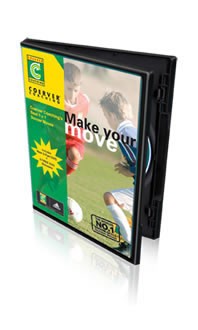 Change of direction techniques
Start and stop
Feints and Deception
Speed drills
Ball mastery
Passing and receiving
1v1 techniques
Small group play exercises
Finishing drills
Fast break exercises
Make Your Move (5 Disc DVD Set) $99.95
All these soccer moves can even be modified for skill level, age and field condition – making the Coerver Coaching Make Your Move DVD set a program you can come back to, time and again, for continuous improvement! Forget a move or a skill, just grab the DVD and watch the skill again.
Save 20% when you buy Make Your Move & Goalkeeping Essentials
Save 20% when you buy Make Your Move & Improve Your Game
In addition to all of the DVDs, you'll also get one year of free access to the Coerver Coaching Online Library and eBooks!
Sample Video
All DVDs backed by Coerver's 90 Day, 100% satisfaction guarantee!