Coerver's play like the stars: Looking for a Coerver Coaching tool where you learn from the best soccer players in the world. Come this way. We live in a world of huge stars, brand names almost, but that's nothing new. At the 1974 World Cup Johan Cruyff, later to become an enthusiastic supporter of the Coerver method, unveiled a new move so dazzlingly innovative that it was simply christened The Cruyff Turn.
And if imitation is the sincerest form of flattery, then Play Like The Stars is sincerity itself: a collection of videos explaining how to successfully execute the signature moves and skills of various football legends. Combine these into one soccer player and see what happens next….
Buy Your Play Like the Stars DVD or online version here.
Improve your soccer skills using the world famous training techniques of Coerver Coaching. New DVD with online tools from Coerver called, "Play Like The Stars" includes more than 50 super soccer skills, and is suitable for boys and girls of all ages and is guaranteed to improve all players whatever the skill level they possess.
For young soccer players, there's no better way to learn than to model your game after a top soccer player – that's exactly what Play Like the Stars DVD is all about, learning from the greats of the game.
Get more than 50 SUPER SKILLS.
SUITABLE for boys and girls of all ages, from beginners to advanced players.
Get AMAZING SKILLS from the legends of the game.
GUARANTEED to improve all players.
You'll find it easy to pick up and FUN TOO!
As with all Coerver DVDs, there's a 100% Satisfaction Guarantee.
Buy Your Play Like the Stars DVD or online version here.
50 Drills to Improve Your Soccer Skills
The Play Like the Stars series is a great resource
It is suitable for boys and girls of all ages
Works for beginners to advanced players
Teaches the amazing skills of the legends of the game
It's easy to pick up and fun too!
48 minutes of content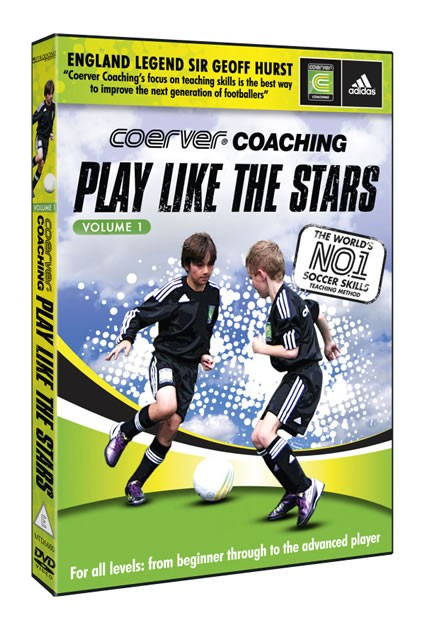 Who wouldn't want to play like Messi, Iniesta, or Cristiano Ronaldo? What's more, this Coerver DVD or online version only costs $19.95, so what are you waiting for, get the DVD or access the online streaming version and start becoming a better soccer player today. Play Like the Star is for all levels of soccer players. The only requirement is for each player to have the desire to want to improve and get better and to put in the work.