Lionel Messi with perfect placement. Messi of course scored two goals versus AC Milan in their Champions League game at the Camp Nou, but it was his first goal, in the first five minutes, which was just an amazing goal since he took the shot so quickly as nearly the entire AC Milan team closed in around him.
Here's video of Messi's first goal against AC Milan. This is one thing that Messi doesn't get enough credit for overall: he's able to shoot the ball so quickly it's hard for defenders or the keeper to even react in time to stop it. Messi's placement of the shot with the inside of his magical left foot is genius.
Below is the goal in pictures.
Sergio Busquets plays the ball into Messi's feet.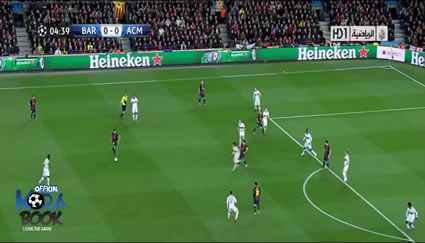 Lionel Messi plays a quick give and go with Andres Iniesta.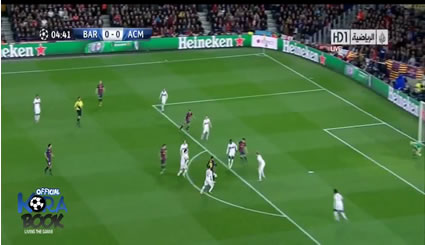 Messi takes a touch to setup the shot.
Here's Lionel Messi scoring Barcelona's opening goal against AC Milan http://t.co/345GDOJKca pic.twitter.com/hw83WtykkP

— Telegraph Sport (@TelegraphSport) March 12, 2013
AC Milan players converge on Messi. Messi bends the ball into the corner with the inside of his left foot. Not perfect placement but ridiculous placement. The incredible way Messi gets off the shot so fast.
Philippe Mexes nearly blocks the ball with his thigh. And Stephan El Shaarawy jersey number looks silly as he tries to converge on Messi. Riccardo Montolivo is about to cry. Mexes might just eat some grass. Messi knows how important this early goal is for Barcelona.