I don't think Virgil van Dijk could have stopped Jadon Sancho's goal here, but he might have been able to reach a foot out or move laterally better to block the shot – at least get a piece of it. I just don't understand why so many soccer players are doing this still. Surely there's a stats company tallying all the times football players put their arms behind their backs in the goal box and maybe avoid a hand ball call but still get scored on.
Thiago Silva Hands Behind Back Defending
Could Virgil van Dijk rush towards Sancho if his hands weren't behind his back?
SANCHO DELIVERS!

He uses some fancy footwork to lose the defender and put Manchester United up 1-0. #MUFC

📺 @peacockTV | #MUNLIV pic.twitter.com/hIjALQEal3

— NBC Sports Soccer (@NBCSportsSoccer) August 22, 2022
I mean before Sancho gets the ball Virgil van Dijk has his arms behind his back. Who's teaching or coaching players to do this in the modern game of world football. It's like giving up before the play has started. Yes of course James Milner wrongly dives in here wildly to try to block the shot.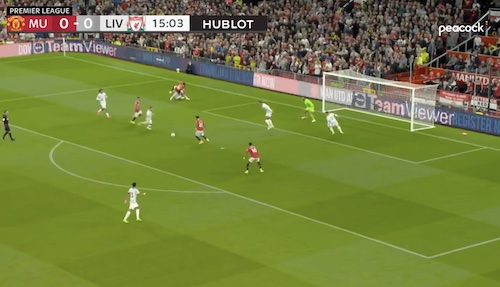 Why keep doing the same thing. Try something new. And with VAR, the referee is going to have a zeroed in view of any hand ball or non hand ball. They should get it right. The hands behind back defending to avoid an outstretched hand getting struck by a shot and have a penalty kick called just doesn't seem all that wise or worth it.
It's conceding a goal already when you put your arms behind your back. Giving in. It's too constricting to try to move quickly like this.
What's funny here too about the Sancho goal is Bruno Fernandes pointing out where he should shoot, the wide open space in the goal! Even in this image below you can see Virgil with his arms behind his back. Yes it is all happening quite fast. Still, seems like he could reach a foot out and have better balance if his arms weren't more or less tied behind his back.