Would James Milner standout on your Sunday League team? Would James Milner start each game on your Sunday League team?  I say this half in jest, but really, would he. Of course he's a pro's pro. A true professional footballer who has won a lot of trophies, but he's more workman like than silky smooth, to say the least.
Yes, I'm sure he would score some amazing goals from time to time – no bicycle kicks or full volleys but some smart finishes. But he's not fast. He's not a skillful dribbler. Yet he's just perfect for Liverpool's midfielder or defense. Is he like Paul Scholes was for Manchester United? I don't think he's that good but perhaps he's as useful for Liverpool in helping them win titles – time will tell. His success with Liverpool has all come pretty much in his 30s. He's now 33 and has played 134 games for Liverpool. That's a lot of games. Milner spent all of the 2016–17 season playing at left-back for Liverpool. During his 5 years with Liverpool he's scored 18 goals.
It was put to Klopp post-match that there is no other player like his No.7, and the boss told Liverpoolfc.com:
"No, that's why he has [played] like 7,680 Premier League games! That's true [that he's unique]. Exceptional, exceptional. It just sets the benchmark, that you're 33 and doing things like this. Obviously age is no issue."
What are James Milner's football / soccer  skills though. How does he standout for Liverpool and Leeds and Aston Villa and Manchester City – all the English Premier League teams he's played for. Brendon Rodgers signed him to Liverpool, not Klopp. Some have said he sees the game well, reads the game. He's not like a Roy Keane, who bossed the game with a fierce intimidation. He's not like Iniesta, to say the list, floating along in the game as he destroys opponents with his deft touches and passes.
If you search on YouTube for highlight clips of James Milner you're not going to find the Neymar, Messi, Ronaldo type of videos full of moves and tricks. You're more apt to search, "James Milner fitness" than anything soccer skill related. The most popular Milner related video on YouTube is certainly the time Messi put the ball through his legs with ease.
No, Milner's more block like, stiff and robotic yet somehow he has enough grace to make that clever pass. One thing Milner does that's key is he never loses the ball, or rarely. He keeps possession. You'd have to also say he's tireless. Always fighting until the final whistle. Who does James Milner resemble though in the way he plays the game. He's no Beckham. He's no Xavi or Xabi. He's just James Milner, the most boring and uninteresting footballer in the English Premier League, and perhaps one of the most successful when his career is all said and done. As they like to say of these types of players: he'll make a good manager. One player Milner is very similar to in his style of play is Frank Lampard, now the manager of Chelsea.
Milner's fitness routine as he gets older is becoming renowned. While the skinny footballer at Barcelona is king for Milner he's focused on building up his strength and it seemed to be working for him. While he might not have a six pack as famous as Cristiano Ronaldo, he's trying. So on your Sunday league soccer team he'd certainly be the fittest and the strongest.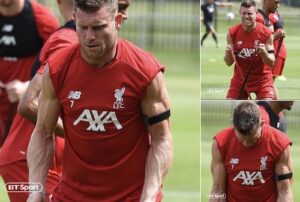 Above image credit to BT Sport.
James Milner scores from the spot after Marc Albrighton clipped Sadio Mane in the box to give Liverpool a last-gasp victory over Leicester City. Watch Milner's decisive Leicester penalty kick below.
Experience and fitness are two of Milner's greatest attributes. And he said fitness is something he focuses on.
"Fitness has always been a strength of mine. People seem to look at ages and think once you get over 30, you're coming to the end. I'd like to think I've got a number of years left in me. I feel really good, and that's down to the great work the staff at the club do looking after us and the facilities we have."
Really, Milner's most valuable characteristic for your Sunday League side would be his hard charing fighting spirit. Leadership if you will. Milner's got a bit of that Jon Snow will to win. I'm sure you'd take the trophy that season if you could field enough players for each game.