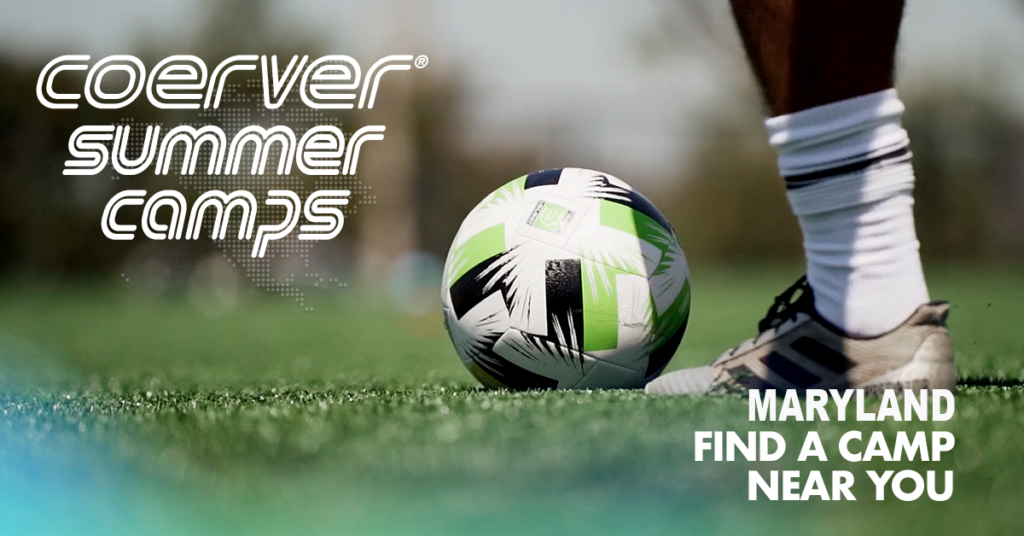 If you're looking for a soccer camp in Maryland, you've come to the right place. Below you will find the best soccer camps available in the state of Maryland. If you don't find the right soccer camp near where you live, it might be worth it to attend a quality soccer camp in a larger city or even another state nearby. Here are some of the best youth soccer camps in Maryland to attend this summer.
Featured Soccer Camps
Soccer Camps International
www.soccercampsinternational.com  – The leader in online registrations for famous and Elite European Clubs Youth Summer Soccer Camps and Soccer Schools, offers players the opportunity to discover new ways of learning and developing soccer skills with players from all over the world in some of the world's best soccer countries including England, Spain, Italy, Portugal and France. Learn how to play the soccer style of Real Madrid, Barcelona, Manchester City, Chelsea, Arsenal, Liverpool, AC Milan, Juventus Turin, Benfica Lisbon, Paris Saint Germain and Bordeaux. Language Classes options available in France, Spain and England. Residential and Day Camp Sessions, Goalkeeper training sessions and girls sessions available. Cultural excursions in top European cities available for select camps. Register Online NOW
Nike Soccer Camps: www.ussportscamps.com/soccer
Get Better this summer at NIKE Soccer Camps! The Nike Soccer Camps provide youth soccer players the opportunity to improve their skills in a high-energy environment which includes morning and afternoon training sessions, small group offensive and defensive tactics and game play with top notch coaches. Offering coed, girls, and boys only programs at fantastic soccer venues with a safe, healthy and FUN learning environment for all ability levels for players of all levels and age ranges. Find soccer camps across the United States from the likes of Vogelsinger, Nike Soccer and the Soccer Academy! Register NOW
Arsenal Football Development Camps: www.arsenalcampsus.com
Arsenal Football Development camps are an exclusive opportunity for boys and girls ages 8 – 16 to experience the methodology of one of the world's most successful clubs. Official Arsenal coaches conduct training sessions that come directly from the famed Arsenal academy at Hale End. Players enjoy insider access to the proven methods Arsenal use to develop its own youth talent for the complete soccer experience. Our camps are club neutral and designed to supplement and complement existing training experience. Summer 2022 Arsenal camps will be held exclusively in New York City, Greenwich and Baltimore. An Official Technical Director together with UEFA Coaches and Football Development coaches lead all of the daily sessions throughout the camp to assure the same level of quality, professionalism and authenticity that is received in London. Register Online NOW
No. 1 Soccer Camps: www.no1soccercamps.com
The No.1 Soccer Camps are the leaders in soccer specialty camps for all ages and ability levels. Long recognized as the foremost training ground for goalkeepers and field players endeavoring to improve their soccer prowess, No.1 Soccer Camps will host locations throughout the United States with many new sites this year. In addition to our traditional Youth, Junior and Senior Academy, at select sites we are also offering our unique College Prep Performance Academy as well as our College ID Showcase Camps. Camps will be conducted in Arizona, Texas, Maryland, Ohio, Florida, Colorado, Massachusetts, Illinois, California, Georgia, Oregon, Virginia, Pennsylvania, New Hampshire, New York, South Carolina, Alabama, North Carolina, Michigan, Tennessee and Connecticut. Each campsite is organized into well balanced small groups of field players and goalkeepers with concentration of play on both sides of the ball in the 35 yards immediately in front of the goal, utilizing our unique Go to Goal curriculum. The Machnik Method is recognized as the industry standard. Many No.1 Soccer Camps present sold out situations so it is important to register early!
Register NOW
International Development Academy: www.internationalda.com
IDA camps and player experiences are the new standard for international soccer camps. Designed for serious student-athletes, IDA's camps and player experiences combine elite training, player development, and competitive match-play against top competition. IDA Camps are offered year-round, with specific dates during the summer season. "The intensity of the training and schedule, the real games, the video footage for my highlight film – to name just a few. The whole experience was so different to what we are used to with summer camps and ID camps. Most camps these days are the same thing – show up, do some training, play some practice games with the same players. You can't really compare the two. If you want the real deal, IDA is your best bet."
Register Online NOW
North-East Residential Camp: www.newenglandsurf.com
The North-East Residential Camp is designed for like-minded Players (born in 2012-2011-2010-2008) who want to compete with the Best of the Best players in the North-East region and be coached by some of the best coaches at New England, New Jersey and Rhode Island Surf. 4 days of elite training, coaching, educational workshops, and internal competitions, at one of the best prep schools in New England. This is a fantastic opportunity for all the players to showcase their talents and get ready for the pre-season, and fall season with their clubs.
Register Online NOW
LA Galaxy Elite Youth Soccer Camps: www.lagalaxy.com
The LA Galaxy is proud and excited to offer a range of ELITE YOUTH PROGRAMS throughout the state of California. Explore your options below to find the programming that best fits your player!
Our specialized training sessions focus on technical and tactical development, activities that encourage creativity and match awareness, and discussions on game-related topics. We strive to identify and develop key players who could advance to play for the Galaxy Discovery Program, LA Galaxy Academy, LA Galaxy II or the LA Galaxy one day.
Register Online NOW
WHAT: Top specialized training sessions focus on technical and tactical development
AGES: 10-16 Years Old (Boys and Girls)
SKILL LEVEL: Intermediate, Competitive, Advanced, Elite (Examples: Flight 1, Silver Elite, ENCL, MLS Next or equivalent)
CAPACITY: To ensure the quality of our Programs, all Camps are limited to 15:1 (Camper to Coach) ratios and registration is first come, first serve
The Berkshire Soccer Academy for Girls: www.berkshiresocceracademy.com
Girls at the Academy receive elite training at top-quality facilities from our qualified and experienced coaching staff. One of the few specialty soccer camps set in a traditional camp environment, we focus on player improvement while deliberately infusing fun and friendship into the learning process. At the Academy, girls discover their greatness both on and off the field. The Academy is located in East Otis, Massachusetts, 10 miles north of the Connecticut border, and about 2 hours by car from Boston, and 2.5 hours from New York City.
All sessions run Sunday morning through Thursday afternoon. Those wishing to attend multiple sessions can attend a Bridge session from Thursday – Sunday (cost $495).
Camp Office Phone (all year): 800-326-9219
Learn more here: www.berkshiresocceracademy.com
One. Soccer Schools Residential Experience: www.onesoccerschools.com
The California Residential programs are designed for the serious, motivated player who has the passion, desire and aspirations to play at the highest level. Our 5, 10 & 15 Day Residential Programs offer a unique and specialized curriculum designed to maximize the individual player's growth and development, self-confidence and overall success during their stay. The residential program attracts talented players from across the United States. Players continue to return every year for the total soccer environment and family they become part of. Our staff are hand picked for their passion and experience within youth soccer! Our training methodology is simple, let the game be the teacher and the coach be the guide. The four 45-minute morning sessions are devoted to the players technical toolbox. The three 45-minute afternoon training sessions are devoted to the four moments of the game, transitions, offense and defense.
Our well thought out themed games look like soccer, and create a highly competitive, challenging, educational and enjoyable experience for the player! The two 45 minute evening sessions are all about competing in small sided games and 2v2 Footvolley. Sprinkle some Qualified Yoga Instruction, Inspirational learning modules on both Nutrition for recovery and health, and team culture and core values, creates an environment unlike no other! For more information on the camp or to see if this would be a good option for your child, contact our Resident Camp Director, Lloyd Biggs at lloyd@onesoccerschools.com and/or visit our website at www.onesoccerschools.com
---
Maryland Soccer Camps

American Soccer Academy Summer
(www.AmericanSoccerAcademy.Net)
Premier Development Program and Advanced GK Academy
June 22 — August 17 (8 weeks: No Session July 6)
Patriot Park Turf (Fairfax, VA)
7:30—9:00pm
Cost: $190 per player
The Advanced GK Academy and Premier Development Programs will be for Travel U9 and older players Conducted by our most experienced trainers and clinicians who have worked and developed High School, University, and ODP players. Players will be given a firsthand chance to observe and participate in a functional and phase of play training environment on skills needed to advance at an elite level.
Academy Camps
July 27-31 and August 10-14
White Oak Middle School (Silver Spring, MD)
Mini Kickers: 9am – 10:30am ($100 per player)
Half Day: 9am – Noon or 1-4pm ($150 per player)
Full Day: 9am – 3pm ($200 per player)
*Post Full Day Camp Care: 3pm – 4pm ($25 per player)
Contact: 301-695-GOAL (4625)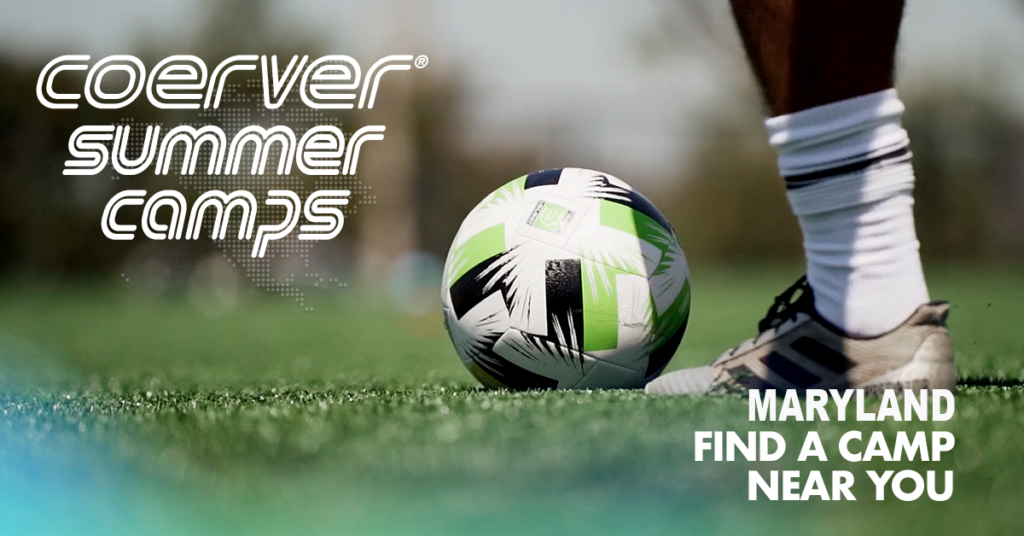 Coerver Coaching USA Soccer Camps – Maryland 2023
40 Camps Available
Coerver Coaching's mission is to provide the world's best youth soccer educational services and products at its Player Camps, Schools and Coaches' Clinics. Our aim is to make the benefits of Coerver® Coaching available as widely as possible through our network of Coerver Coaching licensees. Coerver has camps across the United States including soccer camps in Maryland.
FREE Soccer Training Tips from Coerver Coaching: Enter your email address at this link to start your free soccer training tips: Six Steps to Soccer Success. Find Out Why Over 70,158 Coaches Love Coerver Coaching. Learn more about the The Coerver Coaching Method.
DC United Soccer Camps
https://www.dcunited.com/camps/summer
D.C. United summer camps offer soccer players of all ages and abilities the opportunity to be part of the D.C. United family. All participants receive an official D.C. United camp ball and an official camp t-shirt. Look to attend one of D.C. United's soccer camps in Maryland this summer and improve your soccer skills.
Location: Fairgrounds Park
351 N Cleveland Ave, Hagerstown, MD 21740
Denison Cabral Soccer Academy
(http://www.denisonsoccer.com/contact.htm)
Denison Cabral, one of the most popular players in the history of professional indoor soccer in Baltimore, Denison is entering his 11th years as the President and director of coaching of the Denison Cabral Soccer Academy, working with players from all ages and levels in VA, MD and some of the 10 different countries visited playing and caching soccer.
Dutch Soccer School
(www.dutchsoccerschool.com)
Dutch Soccer School is designed for players and coaches looking for camps and clinics with guaranteed top-level instruction in a fun-learning environment. To guarantee the Dutch way of coaching we fly in our coaches from the Netherlands. At its foundation stands Rinus Michels, the man who 'invented' Total Soccer in the '70's. His ideas are the basis of all the Dutch Soccer School programs, founded on the premise that the player's ball control and tactical development always receive top priority in training.
Contact:
Dutch Soccer School
5973 Charles Crossing, Ellicott City, MD 21043
Phone: 410-978-8220
Email: info@dutchsoccerschool.com
Europa Soccer Camp
(https://europasoccercamp.com)
OUR SOCCER CAMP COACHES HAVE COACHED FOR BARCELONA MAN UNITED, MAN CITY, AJAX, PSG. THE GREATEST SOCCER ACADEMY PROGRAMS IN THE WORLD. Our Coaches bring their training methods to our soccer camps in California, Massachusetts, New York, Maryland + New Jersey.
Elite 300 Soccer Academy
(http://www.elite300.com/elite300/)
Elite 300 Soccer Academy is one of America's premier national training camps for boys. Elite 300 is for teams or individuals looking to be challenged in a highly competitive soccer environment, while being seen by top college coaches.
Elite 300 Soccer Academy participants will…
* Be coached by some of America's top soccer coaches from America's top schools: JHU, UPENN, GEORGETOWN, PRINCETON, SWARTHMORE, etc.
* Receive a complete evaluation geared towards college coaches (those entering junior or senior year only).
* Be evaluated by top college coaches.
* Benefit from an extensive NCAA Recruiting Rules Information session held at camp.
EuroTech Soccer-America's 1# Camp & Tour Company
(www.eurotechsoccer.com)
One of the only integrated nationally recognized field player and goalkeeper programs in the country designed for competitive individual players as well as club and high school teams. Eurotech® Soccer Performance Center programs are located nationwide and combine challenging instruction, excellent competition, first class facilities and the finest national, collegiate and international coaching staff to create the most exciting camp experience in North America for boys and girls ages 7-18! Our mix of technical and tactical instruction, actual game situations and problem solving combined with tournament style matches will develop creative, versatile and confident soccer players.
Garrison Forest School-Maryland
July 31-August 4
FC Barcelona Soccer Camps
(www.fcbarcelonasoccercamps.com)
The Official FC Barcelona Soccer Camps offers the unique and exciting opportunity to experience specialized soccer training through an official partnership with the world's most successful soccer team and their expert coaches. Enjoy exclusive access to FCBarcelona training methods for a true Barça experience. Our summer soccer camps gather thousands of soccer players every year to improve their level of soccer and share their passion for the beautiful game.
FC Barcelona Soccer Camps in the United states take place in: Miami, Fort Lauderdale, Orlando, Atlanta, Dallas, Houston, Boyds (Maryland), New Jersey.
FC Barcelona soccer camp Maryland location:
Maryland Soccerplex
18031 Central Park Circle
Boyds, MD 20841
Greater Experience Soccer Academy
(http://www.greaterexperiencesocceracademy.com/AboutUS.html)
Greater Experience Soccer Academy (formally known as A+T Soccer Academy) was founded in 1996, with the sole focus of developing the whole player to their fullest potential through a challenging and fun environment. We specialize in Team Training, Personal Training, Day Camps, and Residential Camps. Now Southern Maryland FC a division of GESA will be offering players a chance to compete in the countries top league. SMFC is part of the Super Y League for the State of Maryland.
Greater Experience Soccer Academy
5333 Ed Prout Rd.
Lothian, MD 20711
410.271.3897
410.353.2569
Harford Soccer Academy
(www.harfordsocceracademy.com)
Harford Soccer Academy is held at John Carroll High School and is available for kids 5 – 17 years old. The experienced instructor cadre is filled with high level soccer training experience with a vested interest of developing local talent while having fun.
JB Soccer Academy
(www.jbsoccer.net)
The JB Soccer Academy is in its sixteenth year of providing quality soccer instruction to our soccer community. Campers will improve their technical and tactical skills in an encouraging and positive environment. The Academy emphasizes the development of soccer fundamentals through many individual, challenging ball-skill activities, games and small-sided scrimmages. Campers will be grouped according to age and ability.
For more information: jbsoccer@howardcc.edu
John Hopkins University Soccer Academy
(http://jhusoccer.com/jhusa/)
We are offering 3 sessions of day camps this summer! All sessions are held at St. John's for ages 4 – 7. The sessions include age appropriate instruction, Nike ball, t-shirt, and water bottle. Session 1 and Session 2 sold out in the first week so we have added the additional session.
Lee Tschantret's Pro Soccer Academy
(http://prosocceracademy.us/)
We, here at Loyola, are committed to providing a demanding, enjoyable, and high-quality instructional camp experience in a fun atmosphere. Our camps are designed for boys and girls of all talent levels, ages 6 to 14, in a way that enables them to learn and improve on their soccer abilities. We have developed our exercises and functional training games to teach individual techniques, skills and tactical awareness through positive teaching.
1016 S. Streeper St.
Baltimore, MD 21224
Phone/Fax: (410)-342-1261
E-mail: ProSoccerAcademy@aol.com
Mark Mettrick Advanced Soccer Schools
(www.mettricksoccer.com)
The goal of the Mark Mettrick Professional Soccer Camp is to help youth soccer players learn the game of soccer in a fun-filled environment. The Pro Camp recognizes that young players of different ages have very separate demands depending on their age and level of development.
The Advanced School prides itself on offering the highest exemplary standards for players and goalkeepers in the Mid-Atlantic Region.
Pete Caringi's All-Maryland Summer Soccer Camps
(www.all-maryland.org)
Our program allows us to focus on developing each camper's knowledge and skills in soccer. The camp is designed for boys and girls in individual skills, tactics, and fundamentals of team play. Pete Caringi's All-Maryland Soccer Camps are held at two different locations during the Summer months. Please browse the web site to gather more information about one of your choices.
Phone: (410)-455 – 3003
Camp Hotline: (443)-834-5595
PCaringi@all-maryland.org
Premier Soccer Camps
(www.soccercampbytheocean.com)
Contact: Dennis Lukens – 866-449-9237 Dennis@soccercampbytheocean.com
"The Premier Soccer Camp Training System" was designed and developed by Olympic Soccer Coach, US National Champion Youth Coach and current European Head Coach, our National Director Dennis Lukens. We guarantee that you will dramatically improve your technique, your tactical understanding and your physical fitness after attending one week with Premier Soccer Camps. Our Coaches are National Team Players or MLS/Professional/College Players. All are Elite High Level Players who have the ability to demonstrate to you the simplest or most advanced soccer skills at our soccer camps. Our Elite Staff have coached Olympic, College & Professional Soccer Teams and are United State Soccer Federation and UEFA We have some of the best soccer camp locations in America with sites in MA, PA, CA, NY, NJ, MD.
Sasho Cirovski's Maryland Boys Soccer Camp
(http://www.marylandsoccercamp.com/site3.aspx)
All of the programs offered have been designed to meet the special needs of each individual player based on age and ability. Sasho Cirovski's Maryland Soccer Camp for Boys is based on a simple coaching principle.
Young people learn and develop skills most quickly and effectively when they are having fun. Our main objective is to teach each player how to fully reach his potential as a soccer player. We have designed our learning exercises and functional training games to teach individual techniques, skills, and tactics through creative and motivating sessions. All of this will be achieved in an environment of positive reinforcement and communication designed to enrich each individuals soccer experience.
All training sessions at the camp will be conducted in relationship to the ball. Each player will develop a better appreciation of how to run, play, and think as a total soccer player.
Sasho Cirovski's Maryland Boys Soccer Camp
4423 Lehigh Road, #396
College Park, MD 20740
E-mail: marylandsoccercamp@umd.edu
Strictly Soccer Academy
(http://www.strictly-soccer.com/)
Who we are: We are a fraternity of soccer coaches in Maryland who share a common goal of teaching positive and progressive soccer in the region. We bring together the top coaches in high school, college, professional and club soccer in the area. Then we offer the best training programs locally at a fraction of the cost. Two pluses: great coaches, low cost.
Strictly Soccer Academy Inc.
P.O. BOX 28984
Baltimore, MD 21240
info@strictlysocceracademy.com
Toca Juniors Summer Soccer Camp
(http://www.tocajuniors.com)
TetraBrazil Soccer
(http://www.tetrabrazil.com/camp_schedule.htm)
TetraBrazil CAMPS feature professional, comprehensive, high quality soccer training with FIFA recognized "A" Licensed Brazilian Soccer Coaches. Register now for a quality Soccer Camp. Hosted in various states across the US. Check website for availability.