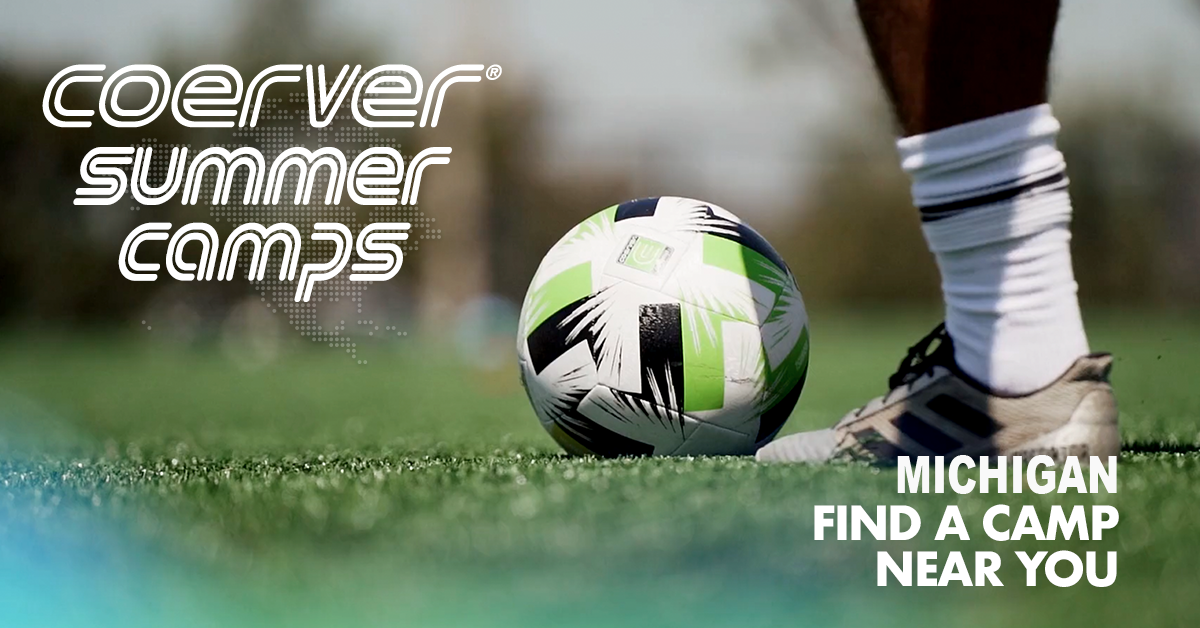 If you're looking for a soccer camp in Michigan, you've come to the right place. Below you will find the best soccer camps available in the state of Michigan. If you don't find the right soccer camp near where you live, it might be worth it to attend a quality soccer camp in a larger city or even another state nearby. Here are some of the best youth soccer camps in Michigan to attend this summer.
Featured Soccer Camps
Soccer Camps International
www.soccercampsinternational.com  – The leader in online registrations for famous and Elite European Clubs Youth Summer Soccer Camps and Soccer Schools, offers players the opportunity to discover new ways of learning and developing soccer skills with players from all over the world in some of the world's best soccer countries including England, Spain, Italy, Portugal and France. Learn how to play the soccer style of Real Madrid, Barcelona, Manchester City, Chelsea, Arsenal, Liverpool, AC Milan, Juventus Turin, Benfica Lisbon, Paris Saint Germain and Bordeaux. Language Classes options available in France, Spain and England. Residential and Day Camp Sessions, Goalkeeper training sessions and girls sessions available. Cultural excursions in top European cities available for select camps. Register Online NOW
Nike Soccer Camps: www.ussportscamps.com/soccer
Get Better this summer at NIKE Soccer Camps! The Nike Soccer Camps provide youth soccer players the opportunity to improve their skills in a high-energy environment which includes morning and afternoon training sessions, small group offensive and defensive tactics and game play with top notch coaches. Offering coed, girls, and boys only programs at fantastic soccer venues with a safe, healthy and FUN learning environment for all ability levels for players of all levels and age ranges. Find soccer camps across the United States from the likes of Vogelsinger, Nike Soccer and the Soccer Academy! Register NOW
No. 1 Soccer Camps: www.no1soccercamps.com
The No.1 Soccer Camps are the leaders in soccer specialty camps for all ages and ability levels. Long recognized as the foremost training ground for goalkeepers and field players endeavoring to improve their soccer prowess, No.1 Soccer Camps will host locations throughout the United States with many new sites this year. In addition to our traditional Youth, Junior and Senior Academy, at select sites we are also offering our unique College Prep Performance Academy as well as our College ID Showcase Camps. Camps will be conducted in Arizona, Texas, Maryland, Ohio, Florida, Colorado, Massachusetts, Illinois, California, Georgia, Oregon, Virginia, Pennsylvania, New Hampshire, New York, South Carolina, Alabama, North Carolina, Michigan, Tennessee and Connecticut. Each campsite is organized into well balanced small groups of field players and goalkeepers with concentration of play on both sides of the ball in the 35 yards immediately in front of the goal, utilizing our unique Go to Goal curriculum. The Machnik Method is recognized as the industry standard. Many No.1 Soccer Camps present sold out situations so it is important to register early!
Register NOW
International Development Academy: www.internationalda.com
IDA camps and player experiences are the new standard for international soccer camps. Designed for serious student-athletes, IDA's camps and player experiences combine elite training, player development, and competitive match-play against top competition. IDA Camps are offered year-round, with specific dates during the summer season. "The intensity of the training and schedule, the real games, the video footage for my highlight film – to name just a few. The whole experience was so different to what we are used to with summer camps and ID camps. Most camps these days are the same thing – show up, do some training, play some practice games with the same players. You can't really compare the two. If you want the real deal, IDA is your best bet."
Register Online NOW
North-East Residential Camp: www.newenglandsurf.com
The North-East Residential Camp is designed for like-minded Players (born in 2012-2011-2010-2008) who want to compete with the Best of the Best players in the North-East region and be coached by some of the best coaches at New England, New Jersey and Rhode Island Surf. 4 days of elite training, coaching, educational workshops, and internal competitions, at one of the best prep schools in New England. This is a fantastic opportunity for all the players to showcase their talents and get ready for the pre-season, and fall season with their clubs.
Register Online NOW
LA Galaxy Elite Youth Soccer Camps: www.lagalaxy.com
The LA Galaxy is proud and excited to offer a range of ELITE YOUTH PROGRAMS throughout the state of California. Explore your options below to find the programming that best fits your player!
Our specialized training sessions focus on technical and tactical development, activities that encourage creativity and match awareness, and discussions on game-related topics. We strive to identify and develop key players who could advance to play for the Galaxy Discovery Program, LA Galaxy Academy, LA Galaxy II or the LA Galaxy one day.
Register Online NOW
WHAT: Top specialized training sessions focus on technical and tactical development
AGES: 10-16 Years Old (Boys and Girls)
SKILL LEVEL: Intermediate, Competitive, Advanced, Elite (Examples: Flight 1, Silver Elite, ENCL, MLS Next or equivalent)
CAPACITY: To ensure the quality of our Programs, all Camps are limited to 15:1 (Camper to Coach) ratios and registration is first come, first serve
The Berkshire Soccer Academy for Girls: www.berkshiresocceracademy.com
Girls at the Academy receive elite training at top-quality facilities from our qualified and experienced coaching staff. One of the few specialty soccer camps set in a traditional camp environment, we focus on player improvement while deliberately infusing fun and friendship into the learning process. At the Academy, girls discover their greatness both on and off the field. The Academy is located in East Otis, Massachusetts, 10 miles north of the Connecticut border, and about 2 hours by car from Boston, and 2.5 hours from New York City.
All sessions run Sunday morning through Thursday afternoon. Those wishing to attend multiple sessions can attend a Bridge session from Thursday – Sunday (cost $495).
Camp Office Phone (all year): 800-326-9219
Learn more here: www.berkshiresocceracademy.com
One. Soccer Schools Residential Experience: www.onesoccerschools.com
The California Residential programs are designed for the serious, motivated player who has the passion, desire and aspirations to play at the highest level. Our 5, 10 & 15 Day Residential Programs offer a unique and specialized curriculum designed to maximize the individual player's growth and development, self-confidence and overall success during their stay. The residential program attracts talented players from across the United States. Players continue to return every year for the total soccer environment and family they become part of. Our staff are hand picked for their passion and experience within youth soccer! Our training methodology is simple, let the game be the teacher and the coach be the guide. The four 45-minute morning sessions are devoted to the players technical toolbox. The three 45-minute afternoon training sessions are devoted to the four moments of the game, transitions, offense and defense.
Our well thought out themed games look like soccer, and create a highly competitive, challenging, educational and enjoyable experience for the player! The two 45 minute evening sessions are all about competing in small sided games and 2v2 Footvolley. Sprinkle some Qualified Yoga Instruction, Inspirational learning modules on both Nutrition for recovery and health, and team culture and core values, creates an environment unlike no other! For more information on the camp or to see if this would be a good option for your child, contact our Resident Camp Director, Lloyd Biggs at lloyd@onesoccerschools.com and/or visit our website at www.onesoccerschools.com
---
Michigan Soccer Camps

Snow Goal Scoring Soccer Camp
www.snowsoccercamps.com
Snow Goal Scoring Camp gives players the opportunity to take more shots on goal than they could at any other camp and is applicable to players at all levels. By teaching the fundamentals of proper shooting form, stressing the ability to take quality shots with both the strong and the weak foot, and relentlessly drilling goal-scoring situations that commonly occur in games, we allow players to develop muscle memory so proper shooting technique becomes effortless and scoring goals becomes 2nd nature. This proven method of practice was instrumental in making Ken Snow one of the nation's best goal scorers and is guaranteed to take a player's shot to the next level. The camp is available for players ages 7-17. We offer camps in several locations in Indiana, Illinois, Michigan, and Ohio. Please visit our website www.snowsoccercamps.com for an up-to-date list of upcoming camp sessions, locations and prices.
Albion Soccer Camp
(http://www.albionsoccercamp.com/home.html)
Albion Soccer Camp's staff takes their responsibility to be great teachers of the game very seriously. We strive to create a positive learning environment that fosters individual growth, while at the same time learning how to be a good teammate. Skill-building is a key component to camp, because without the ability to control the ball, everything else in the game (vision, composure, awareness, etc.) will be difficult. Finally, we firmly believe that a good work ethic is fundamental to fulfilling one's potential on the soccer field.
Albion College
611 E. Porter St.
Albion, MI 49224
Ann Arbor Youth Soccer Association
(http://premium.bluesombrero.com/)
Ann Arbor Youth Soccer Association (AAYSA) is one of Michigan's finest youth soccer organizations. AAYSA provides opportunities to play and enjoy the world's most popular game for youth players of all ages and levels of talent, desire and commitment.
FC Barcelona Soccer Camps
(http://www.fcbarcelonaus.com)
The official FC Barcelona Soccer Camps are coming back to the U.S. this summer.
The FC Barcelona Camps offer the opportunity to boys and girls to learn the same methodology that created players such as Messi, Xavi, and Iniesta. Coaches from the FCB Academy will teach the unique and globally recognized Barça style of play as well as values such as teamwork, effort, and respect. Look for Barcelona soccer camps in Michigan.
Detroit, MI Jul 10-Jul 14 Legacy Center 9AM-3PM
Beasley National Soccer School
(http://beasleynationalsoccerschool.com/)
Holland, MI
DaMarcus and his staff provide young players the opportunity to receive professional, high-level soccer coaching from a team of qualified soccer trainers. Each camp is challenging, educational and fun! The curriculum designed by DaMarcus Beasley focuses on FUN-damentals, exercises and games that provide problem solving opportunities. The Beasley staff will educate, direct and encourage each participant throughout the week. With enrollment all fundamental, intermediate and academy participants will receive a FREE Camp T-Shirt and Camp ball.
Info: Trish Poursanidis
Phone: 260-469-3024
Central Michigan University Soccer Camp
(www.cmuchippewas.com)
CMU Soccer Camps offer a talented coaching staff that includes collegiate coaches from throughout Michigan and the Midwest region, along with several current and former CMU players. Hosted at one of the absolute best athletic facilities throughout Michigan, each camp provides a tremendous soccer experience for each participant in a learning environment that is both fun and challenging.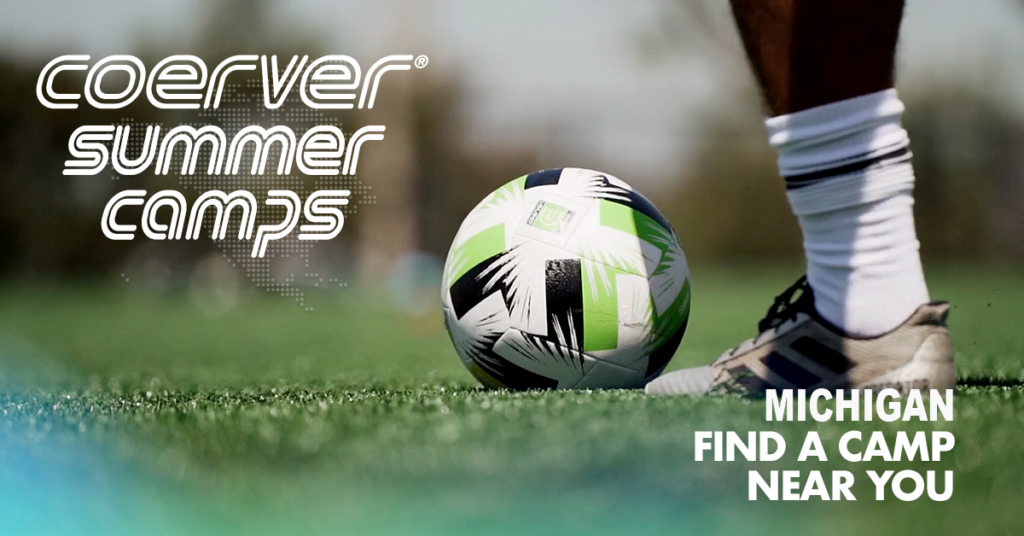 Coerver Coaching USA Camps – Michigan 2023
WHY COERVER COACHING
Do you want your child to learn soccer through a proven teaching method?
Do you want them to get excited about going to practice?
Would you like your Club to have a proven pathway to player development and team success?
If you answered yes to any or all, then you're in the right place!
The Coerver Method is a global program that has been expanding for over 39 years!
It develops confident young players with excellent techniques and game smarts.
Bring your player/team/club to our program and we guarantee they will experience a difference.
Our mission is to provide the world's best youth soccer educational services and products at its Player Camps, Schools and Coaches' Clinics. Our aim is to make the benefits of Coerver® Coaching available as widely as possible through our network of Coerver Coaching licensees. Coerver has camps through the country including soccer camps in Michigan.
Click here for the 2023 Schedule
Detroit Ignition Soccer Camp
(http://camps.detroitignition.com/cirriculum/)
Instruction emphasizing individual skills and the development of fundamentals. The atmosphere is educational yet fun with soccer-related drills and games. Groupings are based on age and ability.
Also, Advanced training for serious soccer players geared towards the TEAM. Team Camp consists of as many teams (minimum of 12 players per team) that would like to participate in the same week. Each registered team will be assigned a Detroit Ignition player to train them for the week!
Detroit Ignition
24901 Northwestern Highway
Suite 710
Southfield, MI 48075
Phone: (248) 436-1116
Toll Free: (888) 436-GOAL (4625)
Fax: (248) 223-0199
info@detroitignition.com
Coerver Coaching USA Soccer Camps
(www.coerver.com/home.php/area)
Coerver Coaching's mission is to provide the world's best youth soccer educational services and products at its Player Camps, Schools and Coaches' Clinics. Our aim is to make the benefits of Coerver® Coaching available as widely as possible through our network of Coerver Coaching licensees. Attend a one of Coerver's soccer camps in Michigan.
FREE Soccer Training Tips from Coerver Coaching: Enter your email address at this link to start your free soccer training tips: Six Steps to Soccer Success. Find Out Why Over 70,158 Coaches Love Coerver Coaching. Learn more about the The Coerver Coaching Method.
Detroit Rockers Summer Camp
(http://www.detroitrockers.net/summer_camps.htm)
The Detroit Rockers Soccer organization has existed in Michigan since 1990. One of their most successful programs has been the summer camps. Rockers Soccer Summer Camps 2008 is dedicated to continuing that tradition of success.
(248)-229-2372
rockerssoccer@sbcglobal.net
DL Youth Soccer Association
(http://www.dlysa.com/event_clinics.htm)
Our mission is to promote and foster in our members a basic knowledge of soccer by creating a fun, fair and safe environment. We emphasize a competitive spirit focusing on skill-development, respect, self-confidence, leadership, sportsmanship and teamwork.
Dutch Soccer School
(www.dutchsoccerschool.com)
Dutch Soccer School is designed for players and coaches looking for camps and clinics with guaranteed top-level instruction in a fun-learning environment. To guarantee the Dutch way of coaching we fly in our coaches from the Netherlands. At its foundation stands Rinus Michels, the man who 'invented' Total Soccer in the '70's. His ideas are the basis of all the Dutch Soccer School programs, founded on the premise that the player's ball control and tactical development always receive top priority in training.
Contact:
Dutch Soccer School
5973 Charles Crossing, Ellicott City, MD 21043
Phone: 410-978-8220
Email: info@dutchsoccerschool.com
Helm Soccer Camps
www.helmsoccer.com
(Landon Donovan, Brian Ching & Stuart Holden)
Chattanooga, TN, Austin TX, Grand Rapids, MI
Young soccer players are given hands-on training by renowned athletes Brian Ching, Stuart Holden, and Landon Donovan. Students will leave our camps with new techniques and an unforgettable experience designed to build character on and off the field.
Hope Soccer Camp
(http://www.hopesoccercamp.com/)
The Hope Soccer Camp experience is specifically designed to meet each player's need. By combining the training techniques used by the Varsity Soccer programs and a commitment to the traditions and values of Hope College, the Hope Soccer Camp has a well-deserved reputation for developing players' skills, character, and their love for the game.
info@hopesoccercamp.com
Michigan Girls Soccer Camp
(www.mgoblue.com)
The Michigan Girls Soccer Camp continues to have a commitment to female soccer players and to the development of their skills, tactics, and enjoyment of the game. It is our goal to provide the knowledge and tools for the improvement of each camper, regardless of skill, age and experience. Our staff is comprised of college head and assistant coaches as well as current and former college players.
Boys camps also available: elite recruiting camps, commuter camps, residential camps, teamp camp, winter elite recruiting camp.
Michigan Goalkeeper Academy
(http://www.mgacademy.net/)
The Michigan Goalkeeper Academy is Michigan's first "keeper only" goalkeeper camp. Under the direction of Michigan's premier goalkeeper coach, Mark Hamilton, MGA is dedicated to the art of soccer goalkeeping. MGA is designated to improve the overall technical and tactical skills of the beginning as well as the advanced goalkeeper. At MGA we prepare goalkeepers to succeed and unleash their goalkeeper talents.
Oakland Boys Soccer Camps
(www.oaklandsoccercamps.com)
The Full Day program is designed to develop each camper into a more serious soccer player. Players of all levels will improve fundamental skills through dynamic activities and games in a stimulating and challenging environment. Players will be placed in groups according to age and/or ability. Mornings will emphasize individual skills and afternoons will concentrate on team tactics and games.
Location: Oakland University Lower Soccer Fields
Soccer coaches: Eric Pogue, Stephen Gorton, Paul Doroh, Armen Tonianse
Soccer Zone
(http://www.soccer-zone.com/soccer.htm)
SoccerZone offers multiple instructional programs for children ages 3-12. These programs offer kids a great opportunity to experience a sport while having a lot of fun. We teach them the skills needed to play the game with an emphasis on fun and development.
7187 S. Sprinkle Rd.
PORTAGE, MI 49002
Phone: 269.329.1212
Toll Free: 800.720.GOAL
Fax: 269.329.4848
Tom Anagnost Soccer Camp
(http://tomanagnostsoccercamp.com/)
The largest one-week soccer camp in the state of Michigan: almost 600 campers!
The 11th Annual Tom Anagnost Soccer Camp
July14 – July 18
Each camper will receive a FREE soccer ball, player evaluation, t-shirt and team picture all for less than $6 per hour! All boys and girls ages 4 to 19 years old
Western Michigan University Soccer Camps
(www.wmubroncos.com)
The individual camps will occur July 22 and 23. The Elite Day Camp and the Half-Day Camp are for ages eight and up. The Mini Kickers Camp is for ages three to five, and the Resident Camp is for ages 10 and up.
At the half day and full day camps players will be instructed on individual ball skills, individual tactical play, small-sided games and basic positional training, including separate goalkeeper training. The elite and resident camps will focus on individual and team tactical progression.
University of Michigan Soccer Camps
(https://camps.mgoblue.com/menssoccer/index.php)
Meet the Team Soccer Camp is open to boys and girls ages 7-12. This camp is a great way to meet, get to know and work with current members of the Michigan Soccer team and staff. The entire 2018 Michigan Soccer team will be on hand to interact with the campers, sign autographs and play games. Camp features: 6 hours of coaching from UM staff and players and exclusive invite to watch a UM Men's Soccer training session in the fall and receive a tour of the athletic facilities used by the teams.
Facility: U-M Soccer Complex, 2250 S. State Street, Ann Arbor 48104