Juventus midfielder Weston McKennie has a long throw-in that's like a corner kick. Lately, while playing for the United States he's being using this long throw-in quite often. Even taking off his gloves at one point to get a better grip on the soccer ball. Mckennie's long throw easily gets into the goal box and causes problems for the keeper and defenders.
To get a better grip McKennie took off his gloves.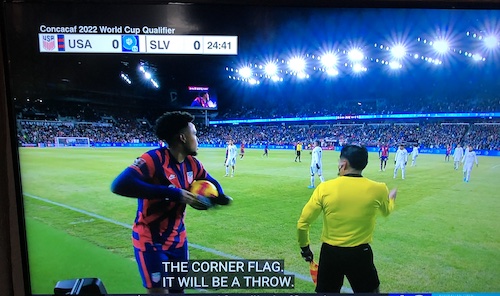 While it hasn't led to a goal yet for the United States, it surely will soon. McKennie's long throw-in is whipped in and all it takes is a flick to the far post to lead to a goal. McKennie has used it too for Juventus, once during a Champions League match for the Italian club.
In the last few World Cup qualifiers for the United States is seems like McKennie has used the long throw-in at least twice per game.
McKennie of course does more on the soccer field than throw the ball in a long ways! He's becoming a key part of Juventus's midfield, scoring goals and winning balls – he's tireless too, chasing back and helping to lead the attack too. If fact, McKennie scored an amazing volley versus Barcelona at the Camp Nou. Hopefully McKennie will have a long career in Italy with Juventus and also learn to enjoy an espresso from time to time! And yeah, maybe he'll stop having ranch dressing with his pizza.
I can see McKennie's long throw-in leading to a goal against Mexico at Azteca!
Here's the "McKennie ranch dressing" video from the Juventus All or Nothing documentary. Surely McKennie has a sponsorship deal with Ranch now, right.