Balotelli two footed tackle: OK, so it's no shock that Mario Balotelli is prone to do some crazy things from time to time on the soccer pitch as well as off. Well, he's prone to do something crazy nearly every game he plays in. Part of it is all the attention that he gets for whatever he's doing but it's also do to the odd things he does. This is a tackle you just don't make or attempt. It could be a soccer career ender.
It's a shame though, as Balotelli is such a talented footballer. But this two footed tackle on Arsenal's Alex Song was beyond crazy and he should have been a straight red card. It's a tackle I'm sure even Roy Keane even turned away from when he saw the replay. Calling this a reckless tackle is even too kind. Balotelli should have been banned for a month for this challenge.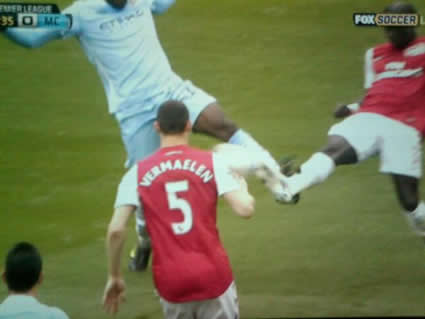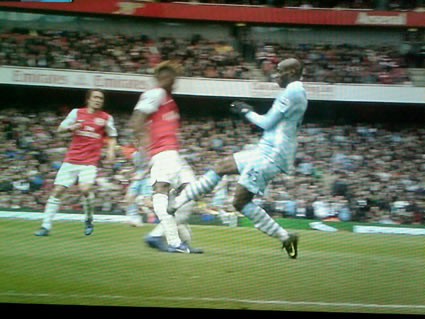 Balotelli's time at Manchester City will be remembered for some of the silly and crazy things on the soccer field. But perhaps Balotelli should be remembered most for his sliding give and go pass to Aguero that won Manchester City the English Premier League title.
If Mario Balotelli doesn't slide and get the ball to Aguero there is no goal and no title for Manchester City. Along with a statue of Aguero there should be a statue of Balotelli sliding to deliver the ball to Aguero.