Was Tyler Adams supposed to track back here and stop Memphis Depay from scoring? Yes, it's Depay that really starts the counter attacking play for Holland and glides past Adams. However, is it all Adams fault or should other American players take some blame too?
Adams probably has to take most of the blame as Depay was his man in the sequences of passes – he let him run past him. And with the goal coming just nine minutes into the game you can't say Adams was tired. I'd be curious to hear what Adams says about the goal and him not following or marking of Depay.
At first I thought it was all the fault of Adams that Depay scored. But taking a closer look at the Depay goal is seems like Tim Ream could have stepped up and closed him down. Ream goes towards the Dutch player dribbling up field with the ball before he plays it out wide. And after that Ream drops back in line with Zimmerman, instead of seeing Depay coming into the goal area free and unmarked – with Adams tailing him.
Yeah, I say it's Ream's fault too. Ream even stepping a bit to Depay might have thrown him off. Forced him to think a bit more and adjust his shot.
For Adams though, maybe just the three games so far of the World Cup tournament had worn him down. He'd played every minute of each game and was relentless in his tracking back and tackling. Versus England he was the best midfielder out of both teams.
Once again, as with most goal scoring chances it's all happening quite fast. So Walker Zimmerman doesn't have a chance to yell at Ream to push higher and close down the unmarked Depay. Again though, nobody stepping to the top of the box is a clear error for the whole team.
It's a good cross by Denzel Dumfries too. A cut back pass eliminating the defense. Depay is completely open.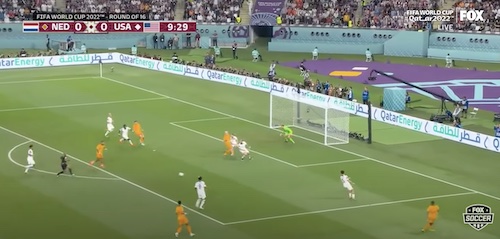 Is Tyler Adams to blame? After all the running and putting out fires he's done for the United States. Unfortunately he has to take a big part of the blame.
How can the defense not recognize and know where Depay is on the field in that moment though. Again, I don't think it's Adams who hast to take the blame entirely even though it looks like he could have done more.
The video below jumps to the Depay goal and Adams not tracking back.